Category: Automotive & Road transportation – Design part
World's first carbon roll cage for production cars - Dr. Ing. h.c. F. Porsche AG (Germany)
Partners(s): Action Composites GmbH, Austria - Kube GmbH Ingenieurbüro, Germany - Lab for Lightweight Design, IKTD, University of Stuttgart, Germany
Extreme lightweight carbon roll cage, to be road legally fitted into a production car, enabled by engineering a unique geometry. The initial metal design withstands extreme elongations. Thus, the use of carbon fibers, presented a major challenge for this application due to the low elongations at break. The Engineering innovation of the project is a new 3 step structural optimization process providing a specific design suitable for CFRP under full consideration of an extremely limited design space as well as multiple crash and FIA load cases (…).
Key benefits:
High weight reduction compared to steel and even titanium
Topology optimized, unique bionic design
Innovative calculation approach – automated link between CAD an FE
Innovative manufacturing process – structural hollow part in serial production
Fulfills FIA load collective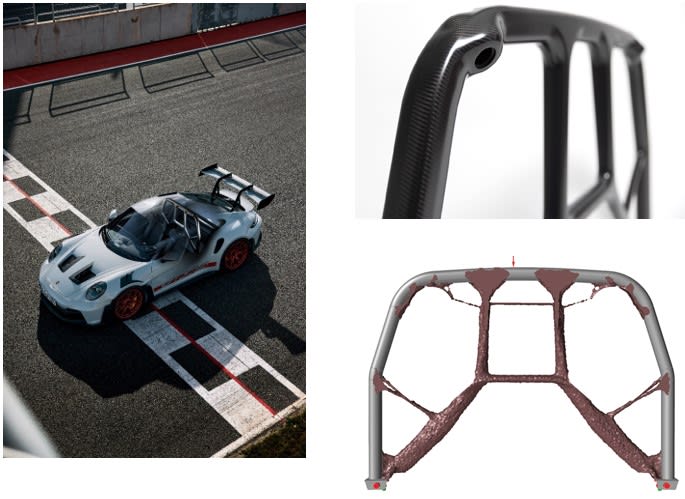 Category:  Automotive & Road transportation – Process
BEV battery protection plate in composite design - Audi AG (Germany)
Partner(s): Polytec Group, Netherlands
Largest, innovative, sustainable BEV underride guard in thermoplastic sandwich lightweight design with
highly efficient one-shot manufacturability for the new Audi Q8 e-tron.

The innovative composite part is characterized by its mechanically extremely robust light-weight sandwich design as well as its large dimensions of about 2100 mm x 1400 mm and a total weight of app. 23 kg, of which about 13 kg are UD-tapes. Due to the large of the component, production using injection molding is technically not feasible, thus a novel one-shot process had to be developed.
The overall design is an excellent trade-off in terms of lightweight potential, design suitability for cost-efficient high-volume production, mechanical robustness and sustainability (…).
Key benefits:
High light-weight potential for BEV underride guards, replacing Al-design
Significant reduction of CO2-footprint compared to aluminum design
Novel press-process for high-volume production of complex sandwich parts
Design for recycling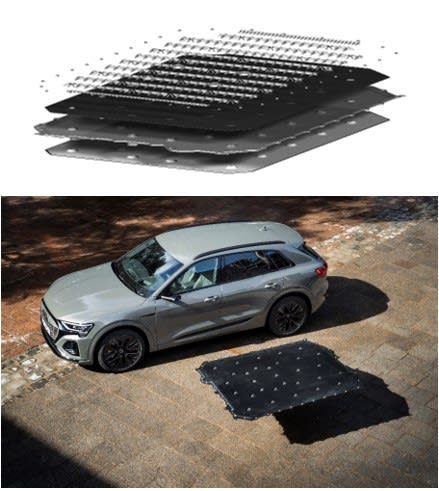 Category: Building & Civil Engineering
A Composite Roof for The Stadium of Real Madrid
Nanotures (Spain)

Partner(s): COMPOSYST, Germany - DIAB, Spain -  Fibertex, Denmark - Gavazzi, Italy - MAP Yachting, France - MEL, Spain - Saertex GmbH & Co. KG, Germany – Sicomin, France – SKY, Hungary – Zoltek, Hungary

Three elements are mechanically joined to reach beams with a span of 75 m. The manufacturing process was infusion with double VAP membrane, avoiding the use of holes in the core and excess polymer.
Critical parameters such as fiber linearity and core joints have been controlled in production to obtain elements with high compression resistance. Strategically, different reinforcements have been utilized in the design to meet the load case and assist in joining to the metallic elements. Finally, the lightweight composite beams allow simplification in the assembly operations on site as well as the simplification, weight and energy reduction of the displacement and elevation motors.
Key benefits
Weight reduction and simplification on site installation
Excellent mechanical properties
Environmental and energy benefit