Each year, the JEC Composites Innovation Awards celebrate successful projects and cooperation between players of the composites industry. Over the last 25 years, the JEC Composites Innovation Awards program has involved more than 1,900 companies worldwide. 214 companies and 527 partners have been rewarded for the excellence of their composites' innovations and fruitful collaboration.  These composites champions are awarded based on multiple criteria such as partner involvement in the value chain, complexity, or commercial potential of the project.
The ceremony took place on March 2nd in Paris, highlighted by the presence of jury members, finalists and winners but most importantly, as it was livestreamed, the gathering of many people all around the world to watch the awaited results!
It is the second time the Innovation Awards ceremony is held prior to JEC World, raising great enthusiasm and showing the composites community's eagerness to get together, get inspired and build strong business connections.

We thank our jury members for their support:
Dr. Deniz Korkomaz, Chief Technology Officer, Kordsa Teknik Tekstil AS
Pr. Véronique Michaud, Head of the Laboratory for Processing of Advanced Composites, Ecole Polytechnique Fédérale de Lausanne
Dr. Alan Banks, UK Innovations Manager, Ford Motor Company
Pr. Christophe Binetruy, Professor of Mechanical Engineering, Centrale Nantes
Mr. Dale Brosius, CCO, IACMI-The Composites Institute
Dr. Enzo Cosentino, Technical Authority and Composite Expert, Airbus
Mr. Guy Larnac, Materials, Structures&Industrialization Technical Coordinator, Ariane Group
Dr. Karl-Heinz Fueller, Manager Future Outside & Materials, Mercedes-Benz
Pr. Kiyoshi Uzawa, Director / Professor, Innovative Composite Center, Kanazawa Institute of Technology
Pr. Sung Kyu Ha, Professor, Hanyang University
Mr. Michel Cognet, Chaiman of the Board, JEC
Do not miss the opportunity to meet with the winners and learn more about their projects and expectations for the future at JEC World 2023 from April 25th to 27th and join them for the Opening session on April 25th at 9:30 in Agora 5.
Category: Aerospace - parts
Hybrid seating structure - Fraunhofer ICT (Germany)
Partner(s): Alpex Technology GmbH, Austria - Amade-UdG, Spain - Leitat, Spain
Aircraft hybrid seating structure designed and demonstrated under sustainability criteria, based on easy to recycle light weight composite material and produced with efficient automated processes.
Commercial aircraft seats consist of many materials and individual parts, mostly a mix of polymers and metals, so very complex to recycle. The seats must also be lightweight to increase the overall efficiency of the aircraft. To achieve both goals (lightweight and recyclability), an aircraft seat series was developed based on the following sustainability criteria:
Ease of recycling using one polymer type for all polymer parts for which recycling process is available.
Reduction of number of seat components and weight through function-integrated lightweight design.
Effective production of the plastic components through processes suitable for series production
Elimination of toxic primers to improve the adhesion of metal inserts to the polymers (…).
Key benefits:
Fuel Sustainable PU based light weight CFRP to reduce CO2 emissions and waste
Radically reduction of numbers of seat parts for low maintenance
Automated high volume production technologies (SMC/WCM) to reduce costs
Reduce the economic cost for carbon fiber aircraft seats
Carbon Fiber attractive design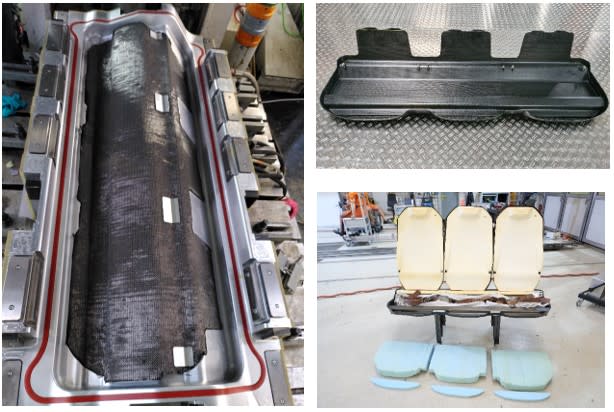 Category: Aerospace - process
Manufacture a Krueger wing flap in thermoplastic - Cetim (France)
Partner(s): Loiretech, France - AFPT GmbH, Germany - Sonaca SA, Belgium
Innovative Krueger Flap produced In-situ with an automated thermoplastic process.
The innovative Krueger flap, produced through this multi-partner project, has a large and complex shape and was manufactured using an in-situ thermoplastic consolidation process. It outperforms existing processes in terms of structural and industrial performance with higher production, better process stability and improved composite quality (…).
Key benefits:
In-situ consolidation with full automated process (laser filament winding)
Recyclability (thermoplastic part)
Repeatability and reliability of the process
Reduction of production costs
Mass reduction of large parts