Marking compostable film without printing
In order to provide optimum solutions to companies for coding and marking their food packaging, at the Domino Laser Academy in Hamburg, experts from the company are researching and experimenting with new substrates. "We spend a lot of time analysing new packaging materials. Due to the new European legal requirements for recycled plastics, around 95 percent of the food packaging samples we need to test are recycled or recyclable plastics. Our fibre and uv lasers offer many good solutions for coding these substrates. We are however convinced that in the coming years, the demand for compostable solutions will increase. We therefore want to be prepared to offer our customers relevant advice and solutions for these new materials", says Dr. Stefan Stadler, team leader at the Domino Laser Academy. According to this focus, the laser team has tested the compostable NatureFlex film products by the Japanese company Futamura regarding their suitability for laser coding. The laser produces a crisp, white code on the film without damaging the integrity of the original film, changing the chemical composition, or affecting the properties of the moisture barrier. The print-free coding method does not require additional materials on top of the compostable substrate, which should make gaining certification for the final packaging much easier.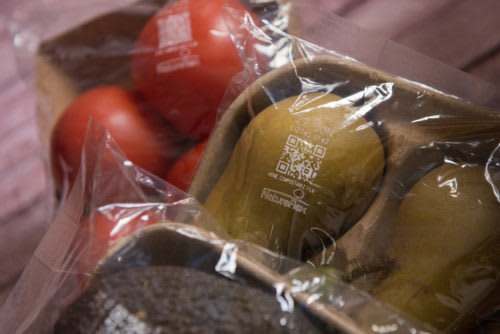 Crisp and clear: QR code applied by laser to a compostable film.
(Image: Domino Germany)
No hygiene is no option
Packaging manufacturers in the food industry are obliged to follow strict legal regulations which among other things demand a high level of hygiene. But hygiene is more than just cleaning and disinfecting. Many applications, for example in the food sector, use compressed air. If this comes into direct contact with food or is used for cleaning, it must not be contaminated with germs, either. SMC Deutschland has developed a new filter for bacteria that meets the strict hygiene requirements of the food industry. With a filter performance of 99.99 percent, it makes sure that international food standards can be met. This applies to the use of compressed air to open or keep open packaging during filling, for cleaning off residual food, powder or dough, or blowing nitrogen into the packaging to prevent food from oxidising.
A new filter for bacteria made by SMC Deutschland drastically reduces contamination.
(Image: SMC Germany)

The food sector is among the most favoured target groups of visitors to interpack, and this shows in the breadth of their presentation. At the world's leading trade fair for Processing & Packaging in Düsseldorf from 4 to 10 May 2023, visitors can discover which sustainable solutions for the future the food industry has ready. The food industry is mostly located in Halls 5 and 6 as well as 11 to 14. Further information on interpack is available at www.interpack.com/" target="_blank">www.interpack.com