Food packaging today is so much more than just protecting the individual product. It is true that the most important function, from the moment of packaging throughout transport, storage and retail, is to ensure that the contents arrive in private households in one piece. But design and material also have a large influence on buying decisions, because more and more people want food that comes in a more sustainable packaging.

Without any packaging, however, most foods cannot be transported, stored or sold, and in their unpackaged state they would prematurely spoil. The protective wrapping keeps harmful influences like light, oxygen or humidity away and prevents soiling or damages. An extended shelf-life is a meaningful contribution to reducing food waste.

Along the entire value creation chain, globally more than 930 billion tons of food are thrown away every year. This figure comes from the last report by the United Nations Environment Programme (UNEP). The Swiss society Food Waste even goes so far as to say that on average, a third of all food is lost or goes to waste on the way from the field to the plate. It is therefore part of the UN Agenda 2030 to cut the worldwide waste of food per capita in half until 2030. The authors of the Food Waste Index Report 2021 also assume that eight to ten percent of global greenhouse gas emissions stem from food which is not consumed. Packaging can help to curb this wastefulness.

Following the "Sustainable Development Goals" of the United Nations is also the SAVE FOOD Initiative, which was founded in 2011 by Messe Düsseldorf, the FAO and interpack. Their goal is to create public awareness for the issue and to develop counter strategies and solutions in cooperation with politics, society and the industry. A special focus is placed on innovations from the packaging industry. And so, a current research project by SAVE FOOD is looking for answers to the question how biodegradable food packaging could be made from food waste or from by-products of food production.
Combining protection and sustainability
But packaging is not only there to extend freshness and shelf-life. Consumers are increasingly demanding environmentally friendly packaging. It is supposed to be recyclable or made from sustainable materials, yet offer optimal protection for perishable products. And this means that especially food packaging today is a real high-tech product. For example, the company allvac Folien GmbH has developed an eleven-layer polyamide/polythethylene food wrap which is fully recyclable and for this has been awarded certification valid throughout the EU by the cyclos-HTP institute. "Offering no eco-friendly packaging solutions is no longer an option. The pressure on food manufacturers simply is too great." says Dr. Andreas S. Gasse, CEO of allvac Folien GmbH.
New recyclable PA/PE film is also suitable for convenience foods.
(Image: allvac)
For aroma-proof food packaging, suitable materials are polyamide films with so-called bi-axial orientation, used for example to package oily, fatty foods or frozen foods. The demand for these films, which owe their special properties to a certain stretching process, continues to rise and so does the demand for relevant film stretching lines. One manufacturer of such lines, interpack exhibitor Brückner Maschinenbau, also focuses on greater efficiency while producing the films. From a mechanical engineering perspective, this is achieved through less use of resources, less consumption of energy and a "zero waste" policy in film manufacture. Brückner has now developed matching concepts for factory lines.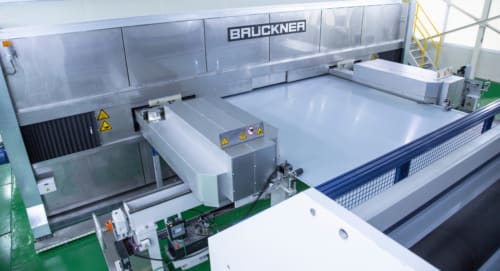 The demand for film stretching lines to produce films with bi-axial orientation from polyamide is increasing.
(Image: Brückner Maschinenbau)