Recyclates with food contact
Greiner Packaging already uses packaging solutions made of up to 100 percent PET recyclates, so-called rPET, and wants to demonstrate that this is what the food packaging of the future could look like. With the help of the heat-resistant material rPET HTS, in the future, recycled PET is said to be usable even for products that require sterilization through heat. The packaging manufacturer has also developed a self-separating cardboard-plastic-combination which is supposed to make recycling easier. This is achieved by the cardboard wrap, which stabilizes a plastic cup manufactured with thin walls, already separating from this cup by itself during the waste collection process. Cardboard and plastic can thus already be sorted into the correct flow of material during the first separation process, meaning before the packaging even reaches the recycling plant.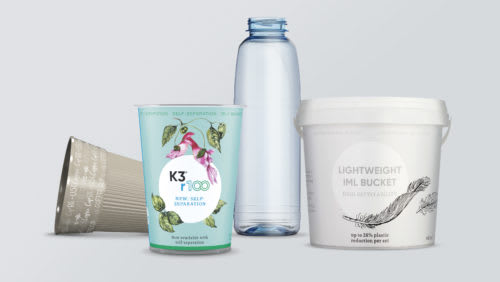 Consumers want more solutions that "reduce, reuse, recycle".
(Image: Greiner Packaging)

PET recycling is a long-established process and provides recyclates for new food packaging. But other plastics, too, can be reused to manufacture packaging for food. With the chemically recycled polyamide Ultramid Ccycled, for example, BASF offers new possibilities for the development of sustainable packaging especially for the fresh goods sector. The chemical group is exploring new opportunities to use plastic waste in its "ChemCycling" project and is further developing pyrolysis technology which is used to gain new resources from plastic waste which would otherwise be energetically recycled y or sent to a landfill. "A thermochemical process lets our partners gain recycled raw materials from old plastics, which are then fed into the BASF system. By looking at the mass balance, the raw material can be tracked to certain products, for example Ultramid Ccycled. This helps to replace fossil resources and is an important step towards a circular economy. As chemically recycled plastics are equal to new products with regard to their quality and safety, the range of sustainable plastics which can be used to package fresh goods is increasing", says Dr. Dominik Winter, Vice President of the European polyamide business at BASF.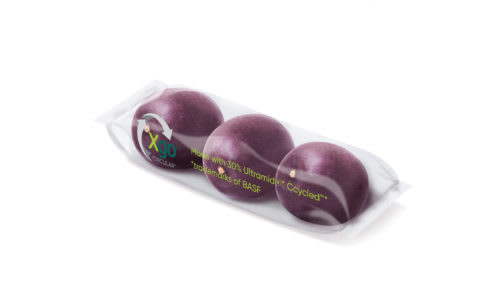 The adapted protective atmosphere inside the packaging maintains the quality of fruit for a longer time.
(Image: BASF)
Automating the packaging process
Not only the packaging producers, the machine manufacturers have also long since adapted to the new demands. For example, recently all machines by Syntegon used for packaging food are able to also process sustainable materials. For one, carton erectors now also produce paper trays for biscuits as an alternative to conventional plastic trays. Vertical tubular bag machines as well are processing both plastics and paper-based materials. They produce for example pillow bags for frozen goods and stand-up pouches or doy bags for dry foods.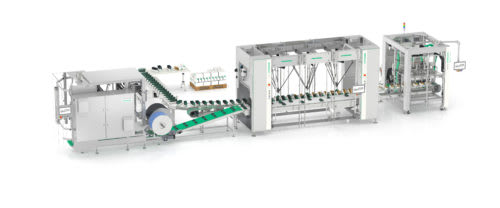 All Syntegon machines used for packaging food have recently been made able to also process sustainable materials.
(Image: Syntegon)

The shift within retail towards e-foods and the year-round need for fresh food place high demands on the flexibility of producers and manufacturers. One such solution comes from the Schubert Group and utilises robot based packaging machines. The robots were developed by the company itself and enable automation with optimum harmonization of packaging processes. They take fresh products, for example sausage or baked goods, directly from production and place them into primary packaging like trays, flat bowls or tubular bags. Often, special tools are necessary, which are adapted to the shape of the product and suitable for hygienic use in the food industry, and for which Schubert has developed its 3D printer Partbox. This allows customers to manufacture parts that are ready as quickly as possible, right on their own premises. This way, defective parts can be quickly replaced and customers can produce new formats for changed products themselves. Schubert also supplies the matching printing material plastic Partbox Black. It conforms to food hygiene standards, has good mechanical properties and a high resistance to temperature.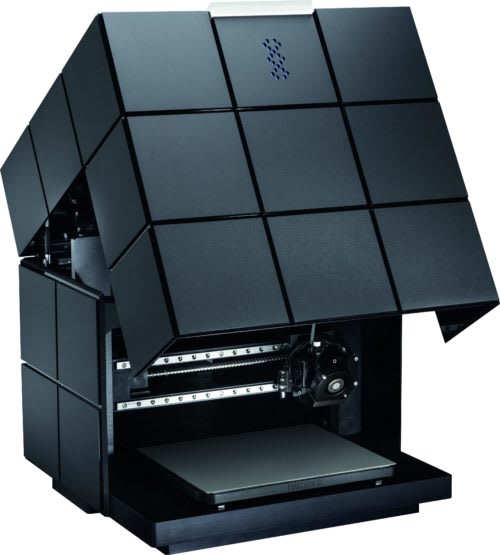 With the 3D printer Partbox, manufacturers can produce tools and spare parts on their own premises.
(Image: Schubert)