We are back at the K Show on October 19th - 26th 2022 in Düsseldorf, Germany.
We will be showcasing numerous new hot runner systems, controllers, and auxiliary injection units.
These solutions include:

Minimize virgin material with our sustainable co-injection PCR solution
When it comes to Post-Consumer Recycled (PCR) materials and sustainable applications, Mold-Masters has the proven capability. Utilizing our industry-leading co-injection multi-layer technology, we have the ability to combine two separate resins into a single 3-layer melt flow. This enables us to be able to inject high PCR content as the core layer up to 50% of total part weight without sacrificing part quality or cycle time while minimizing virgin material. In our most recent production application, Mold-Masters implemented a co-injection system for producing 5 gal. (20 L) pails. Each of these 700g pails incorporated 50% PCR as the core layer.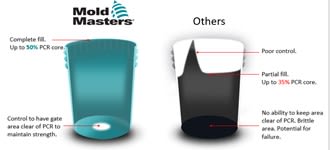 PET-Series 2-stage hot runner system
Mold-Masters new PET-Series hot runner system delivers consistent high-performance processing capabilities for exceptional preform quality. As always, Mold-Masters is focused on increasing your productivity, enhancing reliability, and lowering part costs.  
Our PET-Series hot runner gives the customer the ability to fill thinner preforms (light weighting), to save resin thanks to better HR balance and less variation in preform weight, reduction in cycle time due to faster fill time and a wider process window along with a reduction of AA content.
We achieve this great performance with the industry leading iFLOW Manifold Technology. Our proven 2-piece manifold designs incorporate patented melt flow geometry, flow path options and runner shapes that allow our engineers to optimize performance to your application. In addition, we are also introducing a new PET-Series Nozzle with improved thermal profile, field replaceable heater sleeve and industry standard gate design. PET-Series nozzles also incorporate new MasterSHIELD Technology for enhanced leakage protection between the nozzle and manifold even during cold start-up.
PET-Series hot runner is compatible with any major brand of PET-preform mold.

New fusion series G3 hot runner system

Mold-Masters is proud to announce the launch of our new Fusion Series G3 hot runner system. Fusion systems are shipped completely pre-assembled, pre-wired, plumbed and tested for fast, one-step installation. Mold-Masters FusionG3 system incorporates several major enhancements (over the previous FusionG2 system) that helps optimize mold design and simplify/speed up installation. These enhancements include

Reduced nozzle bore cut-outs
New nozzle heater sleeves (optional)
More compact actuators (PN and HY)
Room temperature installation

Fusion Series G3 nozzles feature more compact nozzle bore cut-outs to help minimize tooling requirements and are available in customizable lengths up to 1,000mm. Fusion nozzles incorporate field replaceable heater bands and gate seals to ensure molders can respond and fix issues quickly on-site to minimize downtime. Most gate seals are interchangeable between G2 and G3 so customers are able to convert to the new system in many cases without any special retooling. New heater sleeves protect the nozzle and wiring from damage during installation and do not impact cut-out dimensions.

The new compact actuators minimize stack heights with cut-outs that are the same or smaller than G2. Anti-rotation and valve pin disconnect are now standard features. Compact actuators are available as either hydraulic or pneumatic. The position of air/hydraulic lines and cooling lines can be rotated to be set perpendicular or oriented different to one another to allow easier access when space is limited. Headless Valve Pin is a new feature which can be re-worked in the field (steel safe).

FusionG3 also has the advantage that it is engineered to be installed and uninstalled at room temperature. It can be pulled directly from the shipping box and placed into the mold. This helps to significantly reduce installation time, eliminate extra equipment such as a temperature controller and improve safety conditions during installation, assembly and removal.

Mold-Masters Fusion Series G3 hot runner systems are covered with an available industry-leading 5-year warranty.