E-Multi auxiliary injection unit (New EM5 model)
Mold-Masters is proud to announce the introduction of our largest capacity E-Multi, the EM5. E-Multi is an all electric, servo driven auxiliary injection unit that offers proven precision, repeatability, versatility, and reliability.  This new unit extends the capabilities of our auxiliary injection units by offering an expanded shot range of 550g to 1,237g (18 to 42 oz). This larger capacity is well suited to the production of large individual components and high cavitation molds. Our EM5 model is expertly designed to meet the processing and capacity demands of your larger multi-material applications across a wide range of industries. Due to its and weight, the EM5 is intended to be installed in a horizontal configuration as standard however an optional vertical installation package is available.
The proven E-Multi platform is currently installed in over 500 applications globally. E-Multi easily and economically converts any existing injection molding machine to allow for multi-shot, multi-material or co-injection capabilities that can be implemented with significantly lower capital investment requirements and faster lead times than a traditional multi-shot injection machine. E-Multi units are available EM1-EM5 which offers a broad shot range from 7.7g to 1237g (0.26 oz to 42 oz) and is compatible with a range of materials including PCR and Bio-Resins. An E-Multi LSR is also available.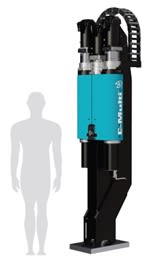 New Axiom (TG-Thermal Gate) single-stage PET hot runner system
It's time to modernize your single stage PET bottle production. Mold-Masters new Axiom (TG) hot runner system brings the latest processing technology to enhance molded bottle quality, increase productivity and lower cost per part. Axiom (TG) is an economical direct replacement to many existing outdated single-stage hot runner systems.
Axiom (TG) is a newly developed optimized design created to meet the needs of single stage PET molders. It features a new optimized nozzle and gate seal design and incorporates Mold-Masters proven iFLOW manifold technology.
The new Axiom (TG) nozzle offers an excellent thermal profile to deliver precise and repeatable processing capabilities. Axiom nozzles incorporate individual nozzle heaters for individual temperature control which are also field replaceable for quick and easy maintenance. The nozzle also incorporates threaded nozzle base for integrated leakage protection.

The gate seal design seals on the face and incorporates an industry standard cut-out which allows for a direct replacement for many common single stage hot runner systems that rely on outdated technology.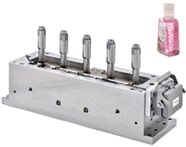 New Symfill technology
Symfill Technology significantly minimizes core shift to improve part quality (straightness) of cylindrical, centre injected components having an aggressive L/D ratio. It achieves this by allowing the melt to enter the nozzle runner channel from multiple sides as opposed to the single-entry point of traditional designs. Examples of such components that would benefit from this technology include blood tubes, needle shields, over caps and other similar parts from the medical, cosmetic and stationary industries.
Minimizing barrel bow offers many downstream processing advantages which includes:

Tubes roll concentrically in the labelling machine.
Increases final stage throughput.
Minimizes machine downtime.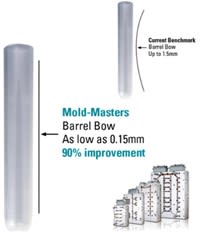 New cylindrical hot valve – CP (CHV-CP) gate
Mold-Masters introduces a new gate seal engineered to extend gate quality production life and simplify maintenance. Suitable for Packaging and other similar applications it is compatible with Commodity and Polyolefin resins (PP, PE, TPE).
Incorporates Enhanced Pin Guidance  

Funnels the pin to the gate to avoid contacting cavity steel.
Minimizes wear to maintain gate quality and extend service life.

Features a Replaceable Gate Insert.

Provides molders with an easy to replace component.
Eliminates traditional gate hole rework/welding.
Allows for maintenance costs to be much more predictable  and minimizes downtime.

Compact Ø3mm OD Tip (1.0mm gate)

Can fit on a wide range of parts
Will produce a double witness ring.
Since tip contouring and texturing is possible the visual impact of the ring can be minimized on the part surface.