Design x Innovation
Industrial design continues to be a popular topic at Chinaplas. For this year's show, we will join forces with the Guangzhou Industrial Design Association to present "Design x Innovation", which comprises three parts: "CMF Inspiration Walls", "Design Forum" and Chinaplas Designers' Night".
The "CMF Inspiration Walls" reflect three key elements - Color, Materials and Finish - and they reveal some of the emerging technologies being developed to advance CMF design for plastics. Last year, the technicolor exhibits from Springfield CMF Technology Co. Ltd. enthralled and impressed visitors, who scrutinized and touched more than 140 samples of products made using Springfield's Differential Pressure Overlay Decoration (DOD) process. Covestro and Springfield will be repeat sponsors of this event, and the show organizer is pleased to welcome first-time participating company PolyOne. The show organizer is also increasing the number of display locations from two to three.
Chinaplas 2019 will feature Design Forums in two locations, fashioned around two themes, including "CMF Design", a popular theme from last year, and "Design for Recycling/Sustainability" in response to the show's focus on "Green Technology".
The show is glad to introduce a new highlight - Chinaplas Designers' Night, with the theme "Connect & Inspire". Product designers, engineers, product developers, corporate decision makers, exhibitors, partners, and others from electrical and electronics and related industries are invited to enjoy food and wine at the Langham Place Guangzhou Hotel. In such a relaxed atmosphere, let us see what kinds of ideas and possibilities will be inspired.
Tech Talk
Tech Talk, celebrating its third year, has become part of the repertoire of Chinaplas. This year, it will be held from May 21-23, and its topics will drill deeper into the application industries and highlight practicality. It will not only showcase major technological breakthroughs of exhibitors, but also provide a platform for professional buyers to better understand the challenges currently facing the plastics and rubber industries.
By way of open forums, the event will bring together the highlights of Chinaplas 2019, showcase the latest and hottest product technologies of the year, and focus clearly on cutting-edge solutions in automotive, electrical and electronics, building and construction, packaging, and other industries. We also have expanded and refined Tech Talk to include 11 major themes, including new energy vehicles, automotive thermoplastic elastomers, 3D printing, bioplastics, composites, antimicrobial applications, in-mold labeling, precision extrusion, green building solutions, plastics for wearable electronics, long fiber injection molding, and more.
Medical Plastics Connect
The medical plastics market continues to evolve and develop, with more exhibitors plunging into that field, which has great potential and value. A gem of Chinaplas for the past four years, "Medical Plastics Connect" actively promotes medical-grade chemical raw materials and equipment to create an efficient communication platform for medical device, consumables, and pharmaceutical packaging manufacturers. These activities aim to pinpoint for potential buyers the unique medical plastics technologies among the many exhibits active in this sector.
"Medical Plastics Connect" activities include "Open Forum", "Pop-up Kiosk", "Medical Plastics Guidebook" and "Medical Plastics Guided Tour". This year, we will expand the display of high-end market technologies, such as 3D printing and pharmaceutical packaging. The open forum has earned a good reputation, and attendees have generally agreed it has improved year over year. In response to market needs, we have decided on a number of hot technology topics for the "Medical Plastics Open Forum 2019", including medical-grade masterbatches, biocompatible materials, resins that are resistant to disinfection, automated packaging equipment, high- precision injection molding, sterilization packaging technology, 3D printing, medical composite bags, ultrasonic welding, hot and cold runners, and more.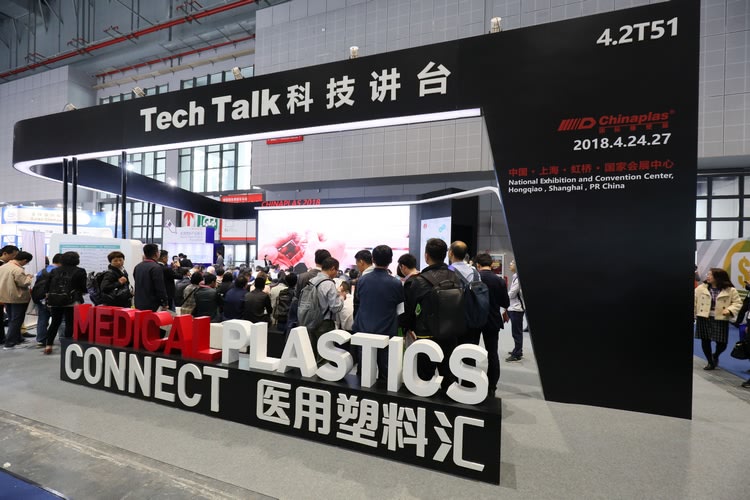 Over 70 technical seminars
In addition to a series of wonderful concurrent events, there are more than 70 technical seminars at Chinaplas 2019. The organizer will also hold a number of activities extending to multiple application industries to help the industries grasp the current situation of the market.
Chinaplas is returning to Guangzhou this year and will be held in Guangzhou, PR China, from May 21-24, 2019.  An estimated total of over 3,500 exhibitors from all over the world will be presenting to more than 180,000 professional visitors from 150 countries and regions. Chinaplas 2019 is going to be an extravaganza.