CHINAPLAS 2018 will be held for the first time at the National Exhibition and Convention Center (NECC) in Hongqiao, Shanghai, PR China, next April 24-27. The exhibition area is expected to exceed 320,000 square meters - 30% more exhibition space than that of the 2016 edition of the show in Shanghai. CHINAPLAS will bring together 4,000 exhibitors from around the world, who will be allocated over a series of meticulously well-organized theme zones. The plastics and rubber industries can anticipate an international, professional and distinctly high-tech platform at CHINAPLAS next April.
A New Leap - To Expand & Reorganize the Show Floor
Since China has implemented reforms and a more open policy, its economic and technological sectors have developed and changed rapidly. The country's plastics and rubber industries, which are fundamental sectors, are growing significantly. New materials and processing technologies continue to emerge, and propel the expansion of upstream and downstream industries. Exhibitors and visitors alike have been demanding more and better exhibition services at CHINAPLAS, the leading plastics and rubber trade fair. This has driven Adsale Exhibition Services Ltd., the show's organizer, to continuously expand the event's scale and upgrade its quality.
"From 2012 onwards, CHINAPLAS has faced the problem of space shortage," according to Adsale's General Manager, Ms. Ada Leung. "Previously, when we held the show at the Shanghai New International Expo Center in Pudong, we had used up all the indoor exhibition halls. We even built outdoor temporary exhibition halls, but still couldn't meet the huge demand from our exhibitors. By moving to the new venue, NECC, Adsale can fulfill the strong demand for exhibition space immediately. This relocation to the new venue is also good for the long-term development of CHINAPLAS," Ms. Leung continued.
The shape of the NECC is like a blooming "four-leaf clover". With a total construction area of ​​1.47 million square meters, it is the largest single block building and exhibition complex in the world. There are 400,000 square meters of indoor area, which consists of 13 large exhibition halls and three small exhibition halls. There are conference rooms with different specifications and settings among the halls. The central area is a commercial plaza providing abundant catering services.
"CHINAPLAS 2018 will not only accommodate more exhibitors, but will also have better management in the set-up of theme zones, country/region pavilions, and concurrent events. We believe that visitors will have a new, high-quality visiting experience," Ms. Leung said.
A New Challenge - Massive Relocation Project
Relocating an exhibition is similar to "moving house" – but on a whole other scale. The massive CHINAPLAS 2018 relocation project is equivalent to moving 4,000 houses to a new place at the same time. This is not a minor issue for any show, but is a particular challenge for the huge, technology-oriented CHINAPLAS. As organizer, Adsale is carefully considering the overall layout, the arrangement of on-site services, the contracting of various, third-party service providers, etc.
"We're lucky to have a very experienced team," said Ms. Leung. "Starting in 1978, Adsale has organized trade shows and become a leader in the trade show industry. We hold about 20 trade shows each year." Some two years ago, Adsale formed a special team to prepare for this relocation project. This team has done a lot of site visits, and conducted extensive assessments and analyses. The CHINAPLAS team is in full swing, preparing for the huge transition.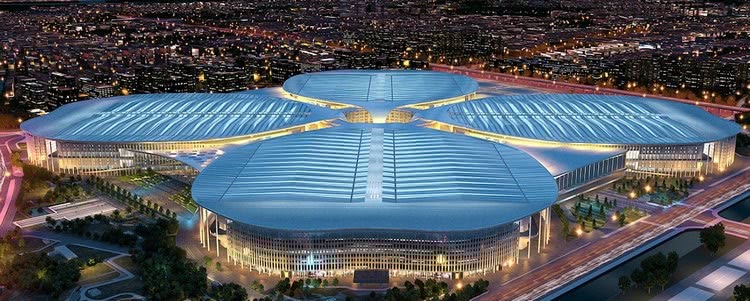 National Exhibition and Convention Center