Mold-Masters SPRINT Closure Hot Runner System Launches NEW Color Change Gating Tips – The fastest just got faster!
Milacron's Mold-Masters hot runner product brand will showcase their leading closure hot runner, SPRINT which has launched NEW Color Change Tips. The new tips are engineered to far exceed the performance of similar competitive systems. The new SPRINT color change tip improves color change by up to 47% (vs. a standard gate tip). These new gating tips are available immediately as a standard package for all SPRINT systems and are compatible with the current tip as replacements. Mold-Masters SPRINT closure hot runners are engineered for speed. SPRINT is available in hot and valve gate solutions engineered for lightning-fast cycles, color changes, optimal part quality and greater durability for maximum uptime, while dramatically reducing overhead.
DME Mold Technology Solutions, TIRAD High Precision Mold Bases and Milacron Direct Industrial Supplies
DME Mold Technologies
Milacron has long been an essential resource to the plastics industry worldwide. The DME product brand proudly celebrates its 75th Anniversary. DME is a market-leading mold technologies provider and continues to provide the industry's broadest range of products and solutions for mold designers, mold makers and processors.
DME TruCool - A Revolutionary Conformal Cooling Solution
TruCool is the new DME line of products designed to help mold makers and molders with their mold cooling. DME's Conformal Cooling solutions utilize a cutting edge, direct metal laser melting 3D printing process to produce highly complex cavities, cores, and components with conformal cooling channels. The process achieves shapes, paths, and channel geometries impossible to obtain with conventional tooling. DME's TruCool Conformal Cooling solution places cooling channels at the optimal distance from the mold surface, consistently following the geometric shape of any mold insert for any customer part, allowing the mold to maintain a targeted, consistent temperature that allows for complete thermal control, allowing for the total injection molding cycle time to be reduced by up to 60%. This technology also allows for conformal venting solutions for those hard to reach areas of trapped gases, when requested by the molder.
TIRAD High Precision Large Mold Bases
TIRAD product lines feature Large Mold Bases with plate lengths up to 1.5 X 2.3 m, increasing the capacity to handle larger, more diverse product molds. The mold bases are manufactured on the fastest, most powerful machines within their class, and use machining centers that process data faster and more accurately. The premier equipment used to make large mold bases significantly reduces manual polishing and additional rework due to increased consistency in high quality finishes. TIRAD offers high precision climate room production capabilities of plates for plastics injection molds, especially for multi-cavity systems in accuracy +/- 0.005 mm / 1000 mm. TIRAD's high precision mold bases are principally utilized for medical, pharmaceutical, technical, food, beverage and packaging solutions.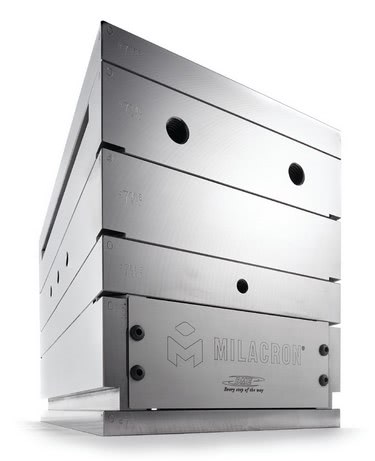 Milacron Direct Industrial Supplies
Whether looking for auxiliary equipment, shop supplies, machine parts, mold sprays or safety supplies, DME has everything required to keep your plant running smoothly. DME has thousands of products that will help improve operational performance and process. DME offers a wide range of auxiliary including conveyors, dryers, loaders and hoppers to clean room enclosures, resin bins and water chillers. A robust assortment of shop products, tools and safety supplies is available to provide customers with the equipment necessary to operate at peak performance. To ensure that every molding machine station is well equipped, DME has a vast array of machine parts, cutters, trimmers and mold sprays.
Milacron eSTORE
Milacron launched the eSTORE a year ago and have received overwhelmingly positive feedback while processing thousands of customer orders in North America and Europe. The Milacron eSTORE is offered in 15 languages. The e-commerce site is seamlessly integrated with the newly re-designed Milacron.com, offering a one-stop-shop for all Milacron products, including individual parts and assemblies for Milacron injection molding machines and Mold-Masters hot runners and controllers. Customers will also have access to DME's vast catalog, connecting them to an unrivaled selection of mold components and industrial supplies 24/7/365. Customers will benefit from simple, cost-efficient ordering deliveries within 24 hours.
Milacron continues to push the boundaries of possibilities in plastics with breakthrough products from leading brands including Milacron, Mold-Masters, Ferromatik, DME, TIRAD, Uniloy and CIMCOOL.
About Milacron
Milacron is a global leader in the manufacture, distribution and service of highly engineered and customized systems within the plastic technology and processing industry. Milacron is the only global company with a full-line product portfolio that includes hot runner systems, injection molding, blow molding and extrusion equipment, mold components, industrial supplies plus a wide market range of advanced fluid technologies.
Source: Milacron