Mold-Masters Hot Runners and Control Systems
Mold-Masters Summit-Series Hot Runner, A Premium Hot Runner for Premium and Clean Room Applications
The Summit-Series is Mold-Masters' premium hot runner line. The Summit-Series hot runner nozzle has four times less thermal variation from set point, compared to the typical thermal variation seen in a nozzle with a heater band. The Summit-Series hot runner is built completely from stainless steel, which makes it ideal for molding shear and temperature-sensitive resins like PC, POM and PBT. The nozzle profile positively affects balance and is especially effective for medical market molding where precision is paramount and has seen significant adoption in premium packaging and complex automotive applications. The Summit-Series can also be ordered with new servo-controlled valve-gate actuators, which allow for individual speed, time and position control of each valve pin in the mold. The Summit-Series is clean room-ready and is the perfect hot runner solution for any molder looking to reduce risk and optimize molding process parameters with minimized variance and strong, repeatable results.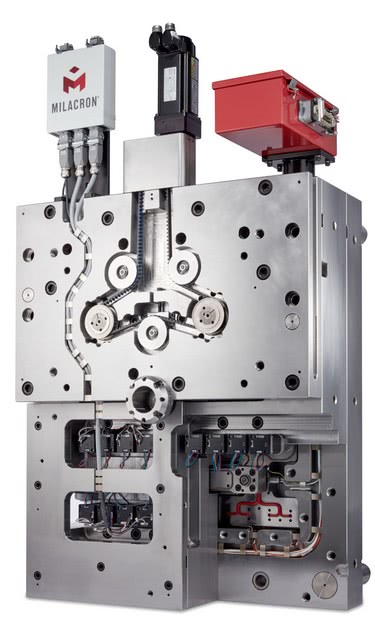 Mold-Masters Fusion G2 Series Hot Runner Rev's up Automotive Molding Operations
Milacron's Mold-Masters product brand has developed new enhanced features in the Fusion G2 Series for automotive and large-part molding. An extended nozzle length range provides more flexibility while the compound nozzle can be used to avoid interferences with cavity cooling lines, and position nozzles in very tight pockets. Fusion G2 is now available with valve pin open speed control and position monitoring that enables improved surface finishes at the gate of the part. Options for extra-extended gate seals are now also available on the entire Fusion G2 product line. Brand new additions to the Fusion G2 product line that will be on display will include high performance water-cooled gate inserts plus some additional new gating methods designed specifically for certain resins.
NEW Mold-Masters DURA+ Automotive Lens and Lighting Hot Runner – The Clear Choice
Mold-Masters NEW DURA+ hot runner for lighting applications utilizes features in the Master-Series and Dura product range. The developments focus on part quality and flexibility for customers. The new smarter angled manifold designs make installations easier and reduce the cost on mold machining. New gating styles and new valve pins with superior flow profile allow for perfect gate quality and the new heater path at main manifolds offer less zones to control without jeopardizing the thermal balancing. The new valve pin position sensors fine tune the injection process and dual thermocouples on nozzles to avoid production fails and the proven Fusion G2 actuators that bring repeatability on gate closing, cooling water jackets.
Mold-Masters E-Multi Secondary Injection Unit – Precise, Versatile Thermoplastic Multi-Shot Molding Solution
Mold-Masters all-electric E-Multi converts existing injection molding machine equipment to enable multi-shot and multi-material molding, expanding operations potential. The proven E-Multi platform is fully compatible with any IMM and the ideal solution for precision molding applications in any industry. The E-Multi has over 2,000 standard possible configurations available ensuring the E-Multi is perfectly sized to applications exact requirements. NEW – E-Multi is now available with LSR capabilities.
Mold-Masters TempMaster Control Solutions: Accurate, Responsive and Intuitive
The Mold-Masters TempMaster control system lineup features the industry's leading Adaptive Process System (APS) software and algorithms. This APS is at the core of each and every TempMaster controller. Today's demanding molding applications require a hot runner controller that you can rely on for precision control, ease of use and day-to-day reliability. Equipment size is also an important issue when trying to maximize shop floor utilization. With this in mind, Mold-Masters has designed the M-Series range of controllers including the fully integrated iM2, the powerhouse M2, and the economical MT series. TempMaster controllers are available in 2 to 560 zone configurations. All controllers are user-friendly, plug-and-play units allowing for quick start-ups.