Milacron Holdings Corp., a leading industrial technology company serving the plastics processing industry is pleased to announce their upcoming participation at Fakuma 2017. This year's Fakuma marks its 25th anniversary. Fakuma will take place October 17-21st in Friedrichshafen, Germany. Milacron will be in hall B3 – Booth 3203, displaying its industry leading technologies including Milacron injection molding machines, Mold-Masters hot runners and control systems, DME mold technology solutions including TIRAD high precision mold bases and Milacron Direct industrial supplies.
"The Fakuma trade show has a rich history of displaying the plastics industry's innovative, future now technical advancements," said Tom Goeke, CEO of Milacron. "It's this platform that allows us to present our customers our most recent technological advances, of which there are many. We always look forward to meeting long time customers and new prospects and show them how Milacron can assist them in their drive for continuous success."
Milacron will have a number of innovative products and solutions on display at Fakuma 2017 from our industry leading brands. Milacron will focus on automotive, medical, packaging and technical applications. Here's a sample of what visitors can expect:
Injection Molding Machine Cells on Display
Milacron All-Electric Elektron EVO 110 Injection Molding Machine
Elektron EVO is the product of Milacron's years of innovation in all-electric injection molding technology. The Elektron EVO was designed for a full range of applications, in a wide variety of sizes, offering outstanding value to customers to help them achieve their plastics manufacturing goals. The Elektron EVO uses 60% less energy and 90% less water than hydraulic injection molding machines, reducing operating costs substantially. Setting the standard for movement repeatability, Elektron's stroke precision of servo-driven axes is significantly greater than top hydraulic systems, making it the best injection molding machine for the reliable production of high-precision parts. With no oil disposal, leaks or slipping hazards, Elektron EVO is perfect for clean room environments regardless of machine size needed. Cell Specifics: Elektron EVO 110, 4-cavity Zahoransky medical syringe insert mold, clean room compliant system. Cycle time of 14 seconds.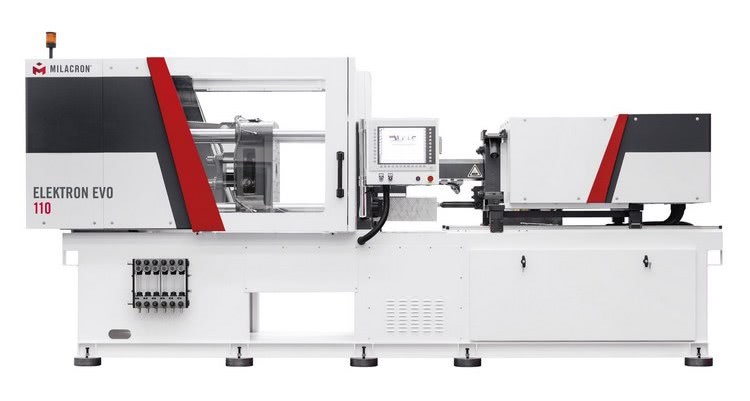 Milacron Magna Toggle Servo 200-970 Injection Molding Machine
The Magna Toggle Servo is a high-value injection molding machine combining the advantages of precision and accurate toggle mechanism with advanced user controls. The servo design increases energy efficiency while providing outstanding repeatability, accuracy, and precision. The reliable toggle mechanism is optimized for fast cycling and reduced platen deflection and the Magna T is able to accommodate large and heavy molds. This platform is an extremely versatile series that offers high reliability, making it an outstanding addition to any fleet. The Magna Toggle product range is from 55 to 550 metric tons. Cell Specifics: Magna Toggle Servo 200, 1-cavity automotive surface sample mold from Wirth Molds with a Mold-Masters TempMaster M1 controller, utilizing Trexel's Mucell system for physical foaming with SGI process in a 52 second cycle time.
Milacron Ferromatik 360 Injection Molding Machine
Milacron's Ferromatik machines are designed to meet the needs and demands of the packaging industry with fast cycle times and high injection speeds. Ferromatik machines are available in nine sizes: from 120 to 650 metric tons of clamping force and are pre-configured for easy multi-component, mono-sandwich, cube, and co-injection capability. Customers can also choose from electric, hydraulic, and hybrid drive options to meet their energy and performance requirements. Cell Specifics: Ferromatik 360, Mold-Masters Master-Series hot runner with a fully IMM machine integrated Mold-Masters TempMaster iM2 controller, 4-cavity packaging container mold and in-mold labeling technology from Müller in a 4 second cycle time.

Milacron 4.0
While Industry 4.0 is still globally evolving, Milacron has been at the leading edge of not only developing but also implementing the technology, machinery, systems and the infrastructure into real-world plastics manufacturing operations. This integration of technologies has enabled a truly smart manufacturing experience for Milacron clients. The transformative nature of Milacron 4.0 is not just in the machinery but also the data and analytics, specifically how it is captured and processed in a way that becomes meaningful to your operations. Milacron 4.0 provides a full suite of observational, analytical and transactional systems and services that enable you to improve your plastics operations with a focus on lean manufacturing. Smart manufacturing with Milacron 4.0 will help your organization understand not only your current capabilities but plan for your future manufacturing goals.