Fast-response core pull ensures smooth embedding of conductors
Embedding and overmolding of conductor tracks involves more than just insertion and fixing of metal parts with subsequent injection of plastic material. To insulate the conductor tracks right up to the plug contact and protect them against moisture, they must be completely sheathed. Kamil Hušek explains: "For centering the metal conductors inside the mold we use groups of mobile fixing pins which can be moved forward and backward similar to ejector pins. The pins wedge in the metal parts from both sides when the mold closes. Towards the end of the injection process, the pins are retracted during changeover from injection to holding pressure via the core pull function, and then the holes left behind by the pins are filled. This must be carried out very fast and reliably every time. The Battenfeld machine control system ensures this."
Efficiency goals achieved
In conversation with the Wittmann Battenfeld CZ Managing Director Ing. Michal Slaba and Ing. Miroslav Tureček, Sales Manager injection molding machines, Kamil Hušek sums up: "The excellent reliability of Battenfeld injection molding machines combined with Wittmann automation expertise delivers consistent good parts quality at low unit costs. The high repeatability from one shot to the next allows continuous production within narrow tolerances and minimizes the possible scrap rate."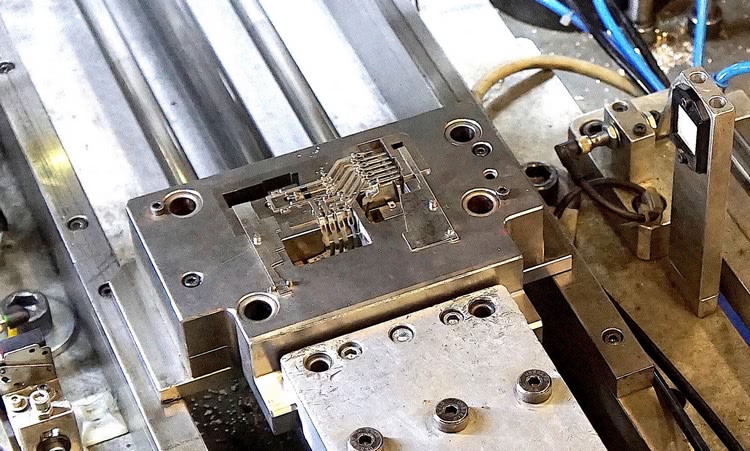 The positive experience with the vertical machines convinced those responsible at Witte Automotive that the acquisition of standard machines from Wittmann Battenfeld would be a good investment, too. So it is not surprising that at both the Nejdek facility and its sister plant in Ostrov some 25 km away hybrid MacroPower machines with 2-platen clamping units have been installed as well.
Source: Wittmann Group