The market for medical devices, in particular, implantable, is expanding rapidly as economies develop, populations get older, health awareness enhances and support policies strengthen. According to data compiled by a Chinese research network, ChinaIRN.com, the size of China's current medical equipment market has exceeded RMB 100 billion, with an average annual growth rate of about 23%, and there is a great potential for a further boom.
It becomes a major focus for medical device manufacturers to search for medical-grade high-tech materials in light of such rapid growth. With "Smart Manufacturing", "Innovative Materials", "Green Solutions" being the show focuses, Chinaplas 2018 is facilitating the formation of new trends - safety, precision, and smart manufacturing - in the medical industry, introducing high standard materials and advanced technology to the industry.
Innovative materials - help advancing to next level
Among the medical polymer materials available, plastics have the advantages of being light, tough, strongly anti-permeable, transparent and easy to mold. Compared with other raw materials such as cermets, plastics have lower costs and are safer, contributing to its increasingly extensive application. From pharmaceutical packaging to disposable medical equipment such as syringes, tubes, infusion sets and surgical instruments, plastics become ubiquitous. High-tech medical plastics is surely going to have significantly greater market shares and influence as demand in 2018 is expected to reach 6,411,700 tons.
CHI MEI Corporation has developed a number of high-quality plastics for the manufacturing of medical devices over the years. Besides the existing materials applied to non-invasive medical devices, recently CHI MEI Corporation has successfully developed even higher-quality materials with more consistent quality and better safety for use in invasive devices. The development of Wonderlite PC-115P is now complete. It has been verified by ISO 10993 biocompatibility testing and is suitable for sterilization using ethylene oxide (EO), gamma radiation, and E-beam. This chlorine-free, high-flowability polycarbonate is ideally suited for applications such as dialyzers and infusion parts. Visitors will see this exhibit at Chinaplas 2018.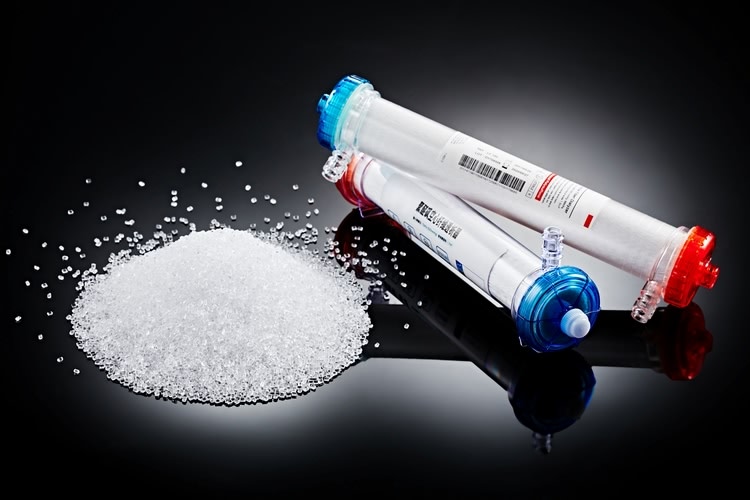 CHI MEI Corporation - Wonderlite PC-115P
TSRC Corporation announces the development of medical SEBS polymers, including Vector DP-8101 and Vector DP-8227. DP-8101 is a SEBS with median-to-high styrene content and median-to-high Mw SEBS. It passed the test for cytotoxicity and complies with GMP production. DP-8101 is suitable for general plastic modification of articles for medical application. DP-8227 is a high vinyl SEBS with median Mw and with low styrene content. It has excellent miscibility with polyolefins and can make highly transparent and much softer articles including film for medical applications.
TSRC Corporation - Vector DP-8101 and Vector DP-8227