Numerous new high performance polymers came under the spotlight at the SPF 2010 plastics films conference that took place in Dusseldorf in late October. They included latest metallocene-catalyzed polyethylenes from ExxonMobil and Ineos, high-stiffness terpolymers from Borealis, extensions to DuPont's ionomer resin family and tie-layer resins based on new technology for multilayer films from LyondellBasell.
The agenda of the conference, organized by Maack Business Services, also featured discussions on some highly innovative barrier technologies, new additives, new film extrusion technologies, market and application developments in oriented films, biopolymers and brand owner perspectives. Without exception, presentations were the subject of lively debate in extensive Q&A sessions.
ExxonMobil continues to champion metallocene-catalyzed polyethylenes, mPE, which it markets under the Exceed and the more recently introduced Enable banners. Enable resins, copolymers of ethylene and hexene, have long chain branching that gives them processing characteristics similar to low density polyethylene (LDPE), yet they retain the high performance – toughness and strength – of linear-low density resins. François Chambon, the company's PE market development manager for Europe, Middle East and Africa, said Enable can replace blends of low and linear low density resins, enabling film makers to down-gauge or increase output, depending on whether they are using LD- or LLD-rich blends.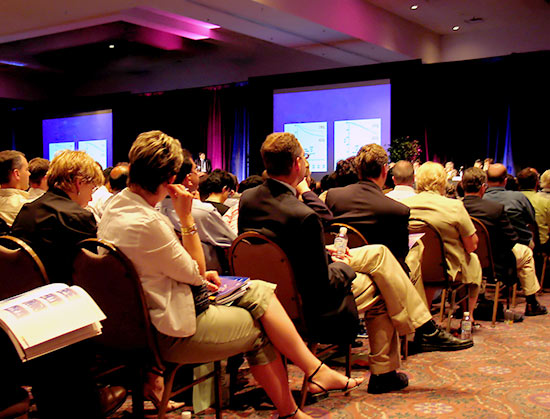 Chambon also highlighted the suitability of Enable grades for pallet- and collation shrink applications. Collation shrink accounts for over 1.6 million tonnes of polyethylene globally, and the market is growing at over 5%/yr, he said. Film structures that have Enable-rich blends in the core and Exceed-rich blends in the skin can be made around 25% thinner than more traditional combinations of LLDPE and LDPE, meeting the increasing demand for more sustainable packaging.
Metallocene polyethylenes also featured in a presentation from Ineos Olefins & Polymers. Jacques D'heur, technical service leader for film and advanced packaging applications, introduced the company's new Eltex PF mLLDPE (also using hexene comonomer). He said a key feature is its "reverse comonomer distribution" - more comonomer on long polymer chains and less on short polymer chains, the opposite of what happens with Ziegler-Natta catalysts – which yields high impact strength as well as very good sealing properties and optics. Again, long chain branching is present, providing high melt strength.
Exploring a similar theme of higher alfa olefins, but this time in the context of terpolymers, Borealis application marketing manager for PO blown films, Paulo Cavacas, introduced Borshape. He described this as a new generation of the company's Borstar technology that makes possible the production of films that are both tough and stiff, as well as easy to process.
Cavacas said Borshape makes it possible to produce very thin films that retain the 'feel' of thicker films. It is particularly suitable for frozen food film grades, as core layers between skins of LDPE and mLLDPE/LDPE blends. He too emphasized processing characteristics, saying output levels achievable, as well as extruder energy consumption levels, can be similar to those of LDPE, depending on the grade used. Furthermore, films run very well on converting equipment, not only because of their stiffness but also because they have high hot tack strength.
Hiroshi Takayasu, a Senior Researcher at Mitsui Chemicals, talked about polypropylene films made using the company's Notio propylene-based elastomer. Notio has a crystalline structure controlled at nano scale, Takayasu said. It has well-balanced physical properties and is completely miscible with PP, bringing softness and clarity to the films.