Equistar Chemicals, part of LyondellBasell, includes Plexar tie-layer resins for multilayer barrier films in its portfolio, the first ever tie-layer resins made in North America. R&D manager Maged Botros introduced a new technology for making resins that enables high inter-layer adhesion without the normal compromise in total film clarity. New resins, which are not yet commercial, are based on LLDPE.
Tie-layer resins normally reduce transparency because the interface between them and the neighboring barrier layer is uneven, "possibly because of covalent bonding that amplifies interfacial stresses, which lead to nanometer-scale distortions," Botros said. The new resins have a graft architecture that enables them to absorb and dissipate these stresses. As a result, the interface between the tie layer and the barrier resin is virtually seamless.
Nippon Gohsei Europe R&D Manager Kaoru Inoue said the company has introduced Nichigo G-Polymer vinyl alcohol polymer, which combines advantages of conventional PVOH and EVOH resins: it exhibits gas-barrier, water-solubility, biodegradability and extrudability. In fact, oxygen barrier in dry conditions is 200 times higher than with EVOH, and in conditions up to 60% relative humidity it has the higher barrier of any extrudable resin.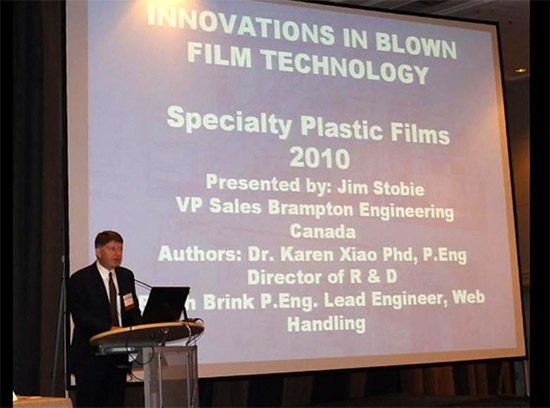 A new collection of special ionomer resins from DuPont was discussed by Karlheinz Hausmann, R&D Fellow at the company. He discussed new sealing resins with higher melting points that withstand pasteurization, and also grades with high comonomer content that, unlike non-ionomeric sealant materials, have increased stiffness despite their reduced seal initiation temperature.
In the modifier area, the company has developed a product line of antistatic ionomer based polymeric additives under the trade name of Entira AS allowing for the production of transparent PE or PP based mono or multilayer films having a permanent antistatic effect due the non-migrating character of the additive polymer.
In a session on oriented films, Harrold Goertz, Global Technical Product Manager for Akulon polyamides at DSM Engineering Plastics, said caprolactam evaporation during film processing of PA6 is an issue that causes pollution of buildings and equipment.
The average BOPA film producing company can have 15 to 50 tons/year lactam pollution, Goertz said. A new Low Oligomer PA from DSM offers a step up in quality, he said. Residual caprolactam in the polymer has been cut from 0.16-0.18% to 0.10%, but because caprolactam is also produced during the extrusion process itself, any further reduction would have limited value. "Stabilization is most effective," he said. DSM is currently carrying out full scale trials on stabilized polymer.
Copolyamide 6/66 has been well known by barrier film producers around the world for many years, said Christopher Passe, in polyamide and copolyamide R&D at Ube Engineering Plastics. Copolymerisation produces a polymer with lower crystallinity than nylon homopolymer. It has better properties than nylon 6 and is more stable in extrusion. Ube also recently introduced a 6/66/12 terpolymer, Terpalex. This demonstrates especially high shrinkage with high puncture resistance, and cast films show improved thermoforming behaviour.
Topas Advanced Polymers' market development specialist Oliver Schuck introduced new applications for cyclic olefin copolymers (COCs)in multilayer film packaging, where use can be made of their shrink properties, formability, barrier, stiffness, chemical resistance and clarity. They often exceed other polyolefins in these properties, while remaining compatible in blends and coextrusions.