"This property profile is the basis for a growing number of specialty applications in pharmaceutical and flexible packaging, said Schuck. He also introduced a concept called Topal, a metallized three-layer coextrusion with Topas skins, which has high moisture and oxygen barrier, and is suitable for packaging of dry foods.
In an additives session, advances in PP and PE nucleation and its effect on performance enhancement in blown film were discussed by Wim Van de Velde, Global Market Manager at Milliken Europe. His presentation focused on the company's latest nucleation andclarification technologies – particularly Hyperform HPN-20E and Millad NX8000 - and the two major performance effects in blown film: the first being the productivity and optical improvement in PP and PE blown film; and the second the significant enhancements in barrier improvement in HDPE film.
In the first of two talks from equipment suppliers, Jim Stobie, Sales Vice President at Brampton Engineering, introduced the company's new flexSTACK multi-layer Co-Extrusion Die and flexWind Center/Surface Winding Technology for increased profitability in processing of co-extruded films. FlexSTACK uses a reconfiguration of the proven BE stacked die to decrease the residence time of co-extruded structures to ensure maximum flexibility and fast purging for various structures. The purge time between structures has been shortened by 50%, while providing unparalleled layer and material flexibility.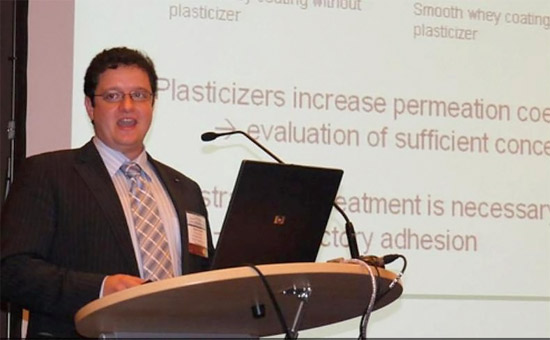 David Atkinson, Vice President for Global Sales at NDC Infrared Engineering, discussed latest developments in near-infrared gauges used for high-speed in-line measurement and control of cast and blown films. Infrared gauges can discriminate between many different types of polymers, so the film processor can when necessary measure the amount of barrier material in the film or coating in addition to the total product thickness or weight. Use of special algorithms even makes it possible to measure the thickness of voided films and of blown film after it has been collapsed into a two-layer lay-flat.
In a session on bioplastics and environmental issues, Markus Schmid, Project Manager at the Fraunhofer Institute for Process Engineering and Packaging (IVV), discussed how biopolymers can functionalize existing packaging materials in terms of barrier improvement.
He described the Wheylayer project, sponsored by the European Union, and aimed at developing whey protein coated plastics films using waste whey from the dairy industry in place of more expensive barrier polymers. The BioPaperCoating project concerns development of a coating system based on renewable materials that can be extrusion-coated onto paper and board for production of cartons for solid and liquid packaging. Base materials are PLA and PHA (polyhydroxyalkanoates), which are compounded with various additives. So far, over 150 blends have been produced.
Tuomas Mustonen, Business Development Manager at the VTT Technical Research Centre of Finland, introduced Atomic Layer Deposition (ALD) technology for putting ultra-thin film coatings of barrier resins onto substrates. ALD produces high quality thin layer metal oxide coatings with excellent barrier to water vapour and oxygen.
Originally developed as a batch process, recent developments, including a "continuous operation" mode, have made it possible to extend the use of ALD for new higher volume applications, including high barrier coatings on biopolymer films.