Jakub Głuch, the Deputy Managing Director and R&D Manager for Pinta brewery in Wieprz, Poland, shares his happiness on becoming an official reseller for KeyKeg and UniKeg in Poland.

"We at Pinta brewery are very excited to be an official reseller for these kegs because with that opportunity we can spread the quality of the KeyKeg and UniKeg solution around Central Europe."

OneCircle and KeyKeg
OneCircle, the producer of KeyKeg and UniKeg, offer a complete range of beverage kegs. KeyKeg and UniKeg feature an advanced design and are easy-to-use, sustainable and circular. Kegs contains a specially developed laminated inner bag in a pressurised, high-tech PET Keg, two elements that guarantee the best beverage quality over the entire supply chain, from filling and transport to dispense for consumers. The kegs offer great opportunities to break into and serve new markets, while personalised custom branding is also possible. Lightweight, sustainable KeyKeg and UniKeg provide the best possible protection for your beverages, which can be dispensed using any gas, even compressed air. Making sure your beverages reach consumers all over the world as fresh as the day they were produced.
Pinta brewery
Pinta brewery is the first craft beer brewery in Poland and grew into the biggest one based on a love of beer and an attitude of doing things 200% or not at all. Pinta started the craft beer revolution in Poland by making beer that the founders of the company, big beer fans, enjoyed drinking themselves. The co-founders of Pinta Brewery, Grzegorz Zwierzyna, Ziemowit Fałat and Marek Semla, felt the wish to show people that beer can be so much more than the standard beers that most people knew at the time. Feeling that mission, in March 2011 they brewed the first American IPA in Poland: Atak Chmielu, which is still Pinta's main and most popular core beer.
Big volumes are no problem for Pinta. The brewery that started as a hobby, brewed 30.000 hectolitre of beer in 2022 and even a little more (35.000 hectolitre) this year. The brewery is located in Wieprz near Żywiec city in southern Poland in the Silesia Province. All the other locations that you will find on https://browarpinta.pl/en/ are branded pubs, from which they spread their love of craft beer and beer culture and try to inspire others to drink great beer. That this caught on is obvious, as there are now around 200 craft beer breweries in Poland.

Official KeyKeg and UniKeg reseller for Poland
Pinta is not only beer, they are also about interesting people, journeys and constant discovery and they like to cooperate with others. Because Pinta is the biggest brewery, KeyKeg and UniKeg are the best packaging solution for craft beer breweries and almost all craft breweries already use KeyKeg and UniKeg for export, Pinta often gets asked by smaller breweries if they are able to supply these Kegs. This makes being a reseller of the KeyKeg and UniKeg solution to other breweries in Poland a natural next step for Pinta. OneCircle is always interested in providing KeyKegs and UniKegs more locally, at the shortest distance to the brewer, because of sustainability goals. This is why OneCircle is also thrilled to have Pinta as a new official reseller in Poland.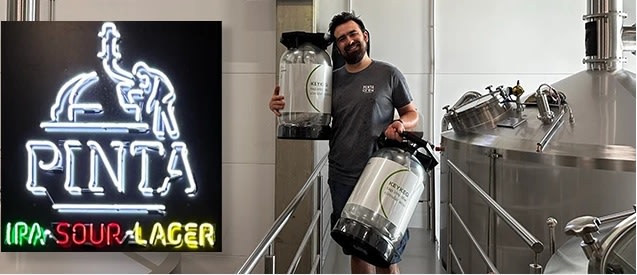 Where can Pinta deliver KeyKegs?
Pinta will start delivering KeyKeg and UniKeg in the whole of Poland and later maybe other countries in the area to. Jakub: "We have a lot of friends in other countries to, so when they ask we can deliver there as well."