Husky Technologies, a pioneering technology provider enabling the delivery of essential needs to the global community, today announced its return to exhibit at Plastindia 2023 (February 1-5, New Delhi, India). At the show, Husky is featuring how its versatile range of technologies, solutions and services enable India's food and beverage packaging, consumer goods and medical device producers effectively respond to productivity, part quality and consistency challenges.

"2023 represents an important milestone for Husky as we close in on 25 years serving India, as well as marking the 70-year anniversary of Husky itself," said Wassim Labban, Husky's Vice President of Rigid Packaging for EEMEIA, SEA and ANZ. "As we look back on our history in this region and globally, we've had the privilege of working alongside many successful customers. Our goal in India is to continue developing and delivering the right mix of technologies, solutions and services that enable all producers to meet current trends in increasingly responsive, adaptable and diverse ways."

Long-standing regional commitment
Since selling the first system into the country in 1999 followed by the opening of the flagship local sales and service office in 2001, Husky has established a strong presence and built solid relationships in India. Recognizing the potential of the country's growing population and dynamic market, Husky further invested in 2011 with the opening of a new 3,500 square meter manufacturing facility in Chennai, which has now become a regional hub.
Today, Husky's presence has grown to include more than 250 systems running in the region. The company continues to invest as Husky is also opening a new Advantage+EliteTM monitoring center and is expanding its footprint in India by 1,200 square meters to bring more support, capabilities, and expertise to the local market. To proactively support customers with an existing installed base, Husky also maintains a robust local OEM parts inventory and team of highly skilled service technicians situated throughout the country to resolve customer issues swiftly and efficiently.

Enabled by Husky. Powered by People.
Located in Hall 12, Stand A-3, Husky will be displaying its range of technologies, solutions and services that enable food and beverage packaging, consumer goods and medical device producers to effectively respond to ongoing market challenges. These challenges include continuing impacts to supply chains, skilled labor shortages, rising energy and material costs, and pressures to be more sustainable – all of which can result in variability and uncertainty in productivity, part quality and profitability. Some highlights include:
Recently introduced HyPET Complete, the industry's only complete, end-to-end, connected production solution designed to enable producers to transform variability into stability throughout every stage of production
Advantage+Elite proactive, predictive, transparent monitoring of customers' production facilities in real-time using remotely connected technology to proactively engage and maintain the lowest total cost to produce
Latest PET Tooling advancements, including its NexPET solution for increased flexibility for mid-volume output applications and 45mm-pitch mold designed to increase output up to 33% for high-output small format applications
Comprehensive, integrated solutions for the medical market, including the Ichor medical injection molding system and Schottli molds engineered for precision and quality
Range of hot runner and controller technologies designed to enable producers to achieve the highest levels of part quality and part volume at the lowest part cost, even for the most demanding applications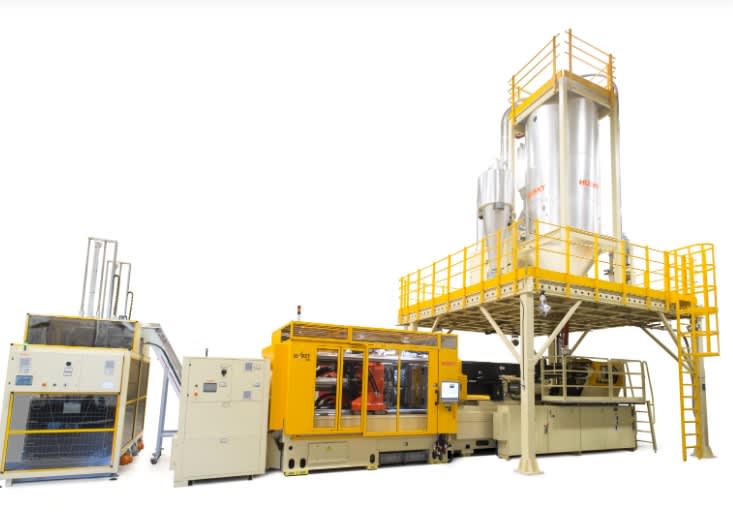 HyPET Complete
Photo: Husky