Minister Kamp of Economic Affairs: "The Limburg region has been known to develop new and innovative industrial activities to maintain economic growth. SABIC's new investment in Geleen is a fine example of successful and close cooperation between a large industrial company, knowledge & research institutes and local governments. The new pilot plant is a welcome addition to the Chemelot Campus. I'm sure this investment will make a useful, long-term contribution to our economy and the growth of the chemical industry."
The new facility will serve to develop grades with improved balance in stiffness and impact resistance, flow properties and other properties specific to target applications. SABIC plans to concentrate on development of impact grades of polypropylene, as well as random copolymers and homopolymers. It will also carry out experiments on advanced catalysts.
The Geleen pilot plant is part of SABIC's network of 21 Global Technology Centers, located strategically around the world. It will support strategic innovation initiatives for SABIC's comprehensive polypropylene product line to address continuously evolving market needs.
The highly automated, cutting-edge PP extrusion line is expected to be in operation in the fourth quarter of 2017 on SABIC's Geleen site. It will answer customers' needs for advanced materials that can support them developing the next generation lightweight applications in industries such as packaging, appliances, automotive, and healthcare.
As part of the inauguration event, SABIC held a dinner with high-level executives from customers at the Columbus Earth Center at the Museumplein in Kerkrade (Limburg/The Netherlands), where it presented its latest sustainability initiatives. Guest speaker Boyan Slat, the founder and CEO of The Ocean Clean up Foundation (which develops technologies to extract plastics pollution from the oceans and prevent more plastic debris from entering them), gave a passionate presentation on the importance of innovation and collaboration for making the world's oceans healthier.
SABIC is a global leader in diversified chemicals headquartered in Riyadh, Saudi Arabia. SABIC has more than 35,000 employees worldwide and operates in more than 50 countries. The Saudi Arabian government owns 70 percent of SABIC shares with the remaining 30 percent publicly traded on the Saudi stock exchange.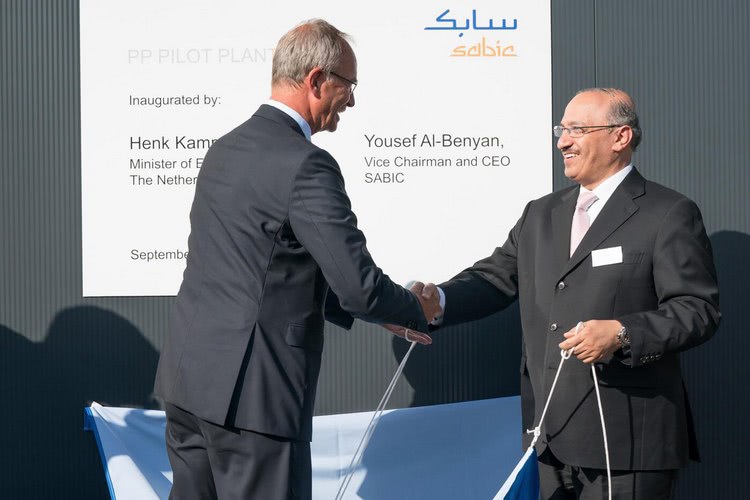 SABIC CEO Yousef Abdullah Al-Benyan and Dutch Minister of Economic Affairs Henk Kamp
Source: SABIC