Plastics save lives. Pure and simple. What often gets lost in the demonization of plastics due to their waste-related challenges is the fact that modern healthcare is heavily reliant on the material and, in fact, could barely function without it.
Even those detractors who long have argued against the use of PVC, or vinyl, in various healthcare applications due to concerns over the material's use of phthalates, have failed to deter the healthcare sector's use of PVC for one simple reason – there is no alternative that can cost-effectively deliver the same level of performance. It is simply the best material for the job.
Similarly, while efforts continue to find ways to reduce plastics-related waste by increasing the reusability and sterilization of various medical items, the cost/benefit/safety analysis of using plastics in numerous healthcare applications makes it tough to beat.
Last October, National Geographic magazine ran a story titled "Can Medical Care Exist Without Plastic?", and noted that "Single-use plastic can be an attractive option for hospitals – cheap, durable, and easily tossed out – and each new fresh plastic container or covering offers a newly sterile environment. That's why clinicians cover themselves and everything they use in plastic."
Various types of plastics and elastomeric materials serve countless uses in the medical and healthcare arena – from basic items such as gloves, tubing, eyeglasses, blood bags and disposable syringes, to high-tech, biocompatible applications such as heart valves, joint replacements and 3D-printed prosthetic limbs.
Ultra-high molecular weight polyethylene (UHMWPE), for example, is excellent for use in prosthetics, while polypropylene's high-heat properties make it ideal for applications where autoclave sterilization and radiation stabilization processes are required, according to global materials supplier Trinseo (formerly known as Styron).
Various forms of chemical-resistant plastics also play a key role in combatting so-called "hospital-acquired infections," or HAIs, which kill tens of thousands of patients every year. Lightweight, durable polymers are often the material of choice for the fast-growing application of "wearable" devices used as fitness trackers and health monitors. Sterile plastic packaging, meanwhile, helps to keep vital medical components and devices safe and protected.
And none of these account for the overwhelming use of plastics in medical equipment, ranging from MRI scanners and dialysis machines to hospital beds and sophisticated test equipment.
Companies such as Jabil-owned Nypro Healthcare also delve deeply into the engineering aspects of medical devices. Nypro focuses heavily on mechatronics, a design process that involves integrating mechanical and electrical hardware with software processes, thereby enabling device designers to deliver highly sophisticated mechatronic functionality.

Jabil's Nypro Healthcare focusing on mechatronics
"One of the major healthcare trends affecting mechatronics technology is miniaturization," notes Nypro. "Ever-smaller instruments, devices, and equipment are being developed to enable less-invasive surgical techniques that enable faster recovery." The use of micro-actuators and micro-sensors is driving the development of tiny mechatronics designs for everything from scientific instruments for DNA sequencing to micro-pumps and auto-injectors for drug-delivery products.
Additive manufacturing also is playing an increasing role in healthcare delivery. Germany's Evonik Industries AG, for instance, recently invested in Meditool, a Chinese 3D printing start-up specialized in implants for neuro and spinal surgeries. Using 3D models generated by Meditool's own software, Evonik can print implants using its high-performance polyetheretherketone (PEEK) polymers.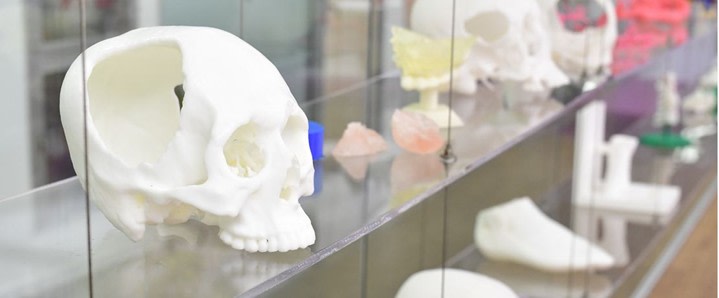 Evonik is 3D printing high-end implants
Other materials suppliers are striving to make plastics more resistant to the harsh cleaning chemicals often encountered in hospitals and operating rooms. Minnesota-based compounder RTP Company has developed a proprietary alloy technology designed to maintain strength, functionality, and integrity, even with repeated exposure to hospital cleaners used to disinfect medical devices. The firm says these thermoplastic compounds, known as the RTP 2000 HC series, "can help solve cracking issues in existing devices and open a new realm of possibilities for the design of hospital equipment and plastic housings that require frequent disinfection, such as mobile ultrasound and x-ray machines, enteral feeding devices, drug infusion pumps, blood filtration equipment, and more."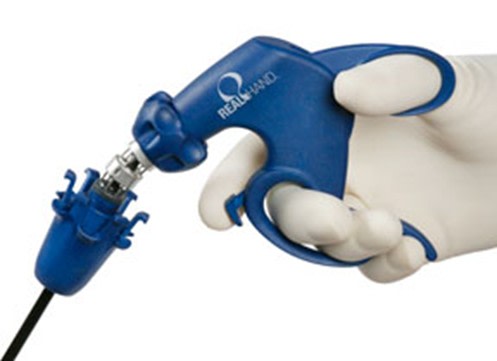 RTP's glass-reinforced PC/ABS finding use in surgical instruments
RTP also supplied a glass fiber-reinforced PC/ABS alloy compound known as the RTP 2500 Series, to Novare Surgical Systems to use in its RealHand line of minimally invasive surgical instruments. Novare has integrated its RealHand HD technology into a series of endo-laparoscopic instruments such as graspers, dissectors, scissors, and needle drivers.