Wood/plastic composite decking
Compounder Teknor Apex Co. just rolled out new, highly weatherable, polyolefin-based compounds for the outer or "cap" layers of dark-color wood/plastic composite (WPC) decking. These materials are said to provide greater durability and scratch-resistance than widely used competing compounds, while helping manufacturers to contain costs.
Teknor Apex says its new, highly weatherable compounds for the outer or "cap" layers of dark-color WPC decking provide excellent durability and scratch-resistance.
Dubbed the Weatherguard WG-9000 Series, these compounds – made with a combination of polyethylene (PE) and wood flour – reportedly offer five- to tenfold improvements in elongation and impact strength compared with a standard competing compound, while sacrificing only 15 percent in tensile strength. The WG-9015 LG grade, when used as a 50 percent concentrate with PE, eliminates the need to use expensive ionomer resin, which often is used in WPC compounds to improve scratch resistance.
Graphite FR additive for roofing applications
NeoGraf Solutions LLC in Lakewood, Ohio, has introduced a graphite-based, non-halogenated, flame-retardant additive designed for plastics applications requiring excellent flame retardancy in construction, such as polypropylene (PP) roofing, as well as other sectors such as aerospace and mass transit.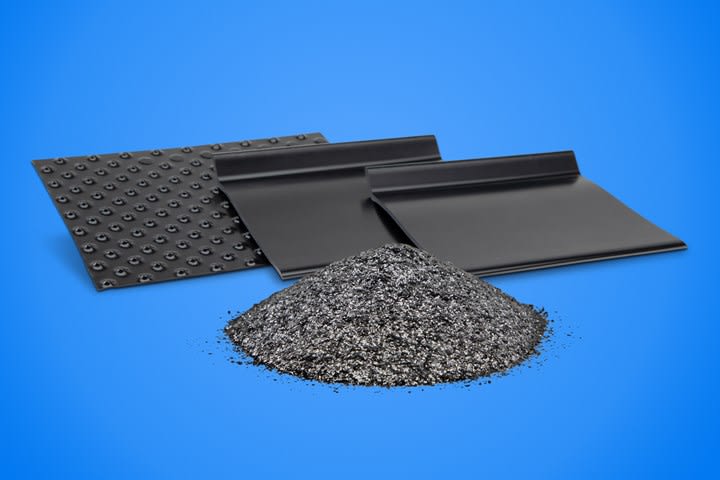 NeoGraf Solutions' new graphite-based, FR additive can be used in construction applications such as polypropylene roofing.
NeoGraf is targeting its new GrafGuard 280-50N expandable graphite flake FR additive for used in thermoplastics, especially specialty polymers with high processing temperatures such as composites and multi-functional systems with high melting points for both injection molded and thermoformed applications.

It's all a façade
Dutch construction supplier fischer Benelux BV, together with Germany's FISCO GmbH, are using composite materials to create a force-bearing fixture called the ThermoBracket. For the components, the parties selected Covestro AG's Desmocomp aliphatic polyurethane.
The part functions as a façade element on buildings, and replaces the aluminum fastening systems that builders typically use to attach rear-ventilated facades to building structures. Aluminum is strong and lightweight, but also tends to act as a thermal bridge since it has higher thermal conductivity than that of the surrounding materials, which can cause condensation and lead to thermal insulation problems.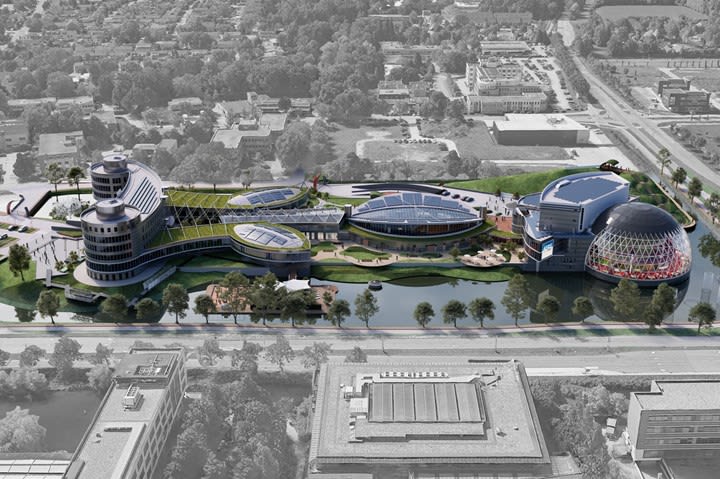 The ThermoBracket fastener - made using Covestro's Desmocomp aliphatic PU - was used on the façades of the new AFAS Experience Center in Leusden, the Netherlands. (AFAS Software photo)
FISCO and fischer tested several resin technologies, and determined that Desmocomp delivered the best mechanical load, flame resistance, and insulation properties. Its thermal conductivity is some 1,000 times lower than a standard metal product. Covestro says its material is also highly resistant to UV radiation, which is important for long-term outdoor use.
Changing extruded pipe dimensions quickly
When it comes to extruding pipe, Battenfeld-Cincinnati believes in size and flexibility. It claims to make extrusion dies with the world's largest adjustable melt gap, enabling the rapid production of pipes in diameters up to 1,600 mm (63 inches) without requiring die changeovers.
The company sold this line to Policonductos SA de CV, in San Luis Potosí, Mexico. Policonductos uses the equipment to extrude HDPE pipes for fresh water supply, sewage disposal, and mining applications in dimensions ranging from 16 in. x 0.5 in. and 3.8 in. x 0.06 in.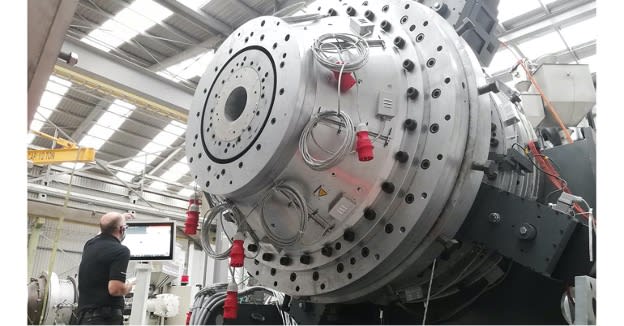 A Mexican pipe extruder is using this huge Battenfeld-Cincinnati extrusion die, featuring the world's largest adjustable melt gap, to efficiently make pipes of varying dimensions.
Battenfeld-Cincinnati says an adjustable melt gap allows the pipe maker, with the mere push of a button, to produce pipe of different dimensions on its line, thereby enhancing its ability to respond quickly to market trends.

Looking ahead
Despite the global pandemic, both materials and equipment used in the building and construction industry remain in demand. Additionally, innovation continues apace boosting product aesthetics and performance, as well as regarding efforts to find ever more sustainable ways to leverage recycled materials in the desired end products.
The latest developments in plastics and rubber in the building and construction sector will be clearly on display at Chinaplas 2021 in Shenzhen from April 13-16. Come see first-hand the materials, machinery and technologies that are helping to enable a more sustainable packaging future.