As an end market, building and construction has long been one of the biggest consumers of plastic and polymer composite materials. Applications are diverse, and range from roofing, decks, siding, fencing and insulation, to pipes, flooring, solar panels, windows and doors, and more.

A 2018 market study by Grand View Research valued the global sector at $102.2 billion in 2017 and projected it would grow at a compounded annual growth rate of 7.3 percent to 2025. PlasticsEurope, meanwhile, has estimated that the sector in Europe consumes about 10 million metric tons of plastics each year, or about one-fifth of the total plastics used in the region.
Lightweight plastic pipes are easy to install, operate and maintain. The flexibility of plastics also means that plastic pipes can cope with soil movements.
Recent U.S. Census Bureau data indicate that U.S. private residential construction has been rebounding since last summer, after slumping from March to May as the economy slowed due to the pandemic. The uptick continued throughout 2020 and, by December, private residential construction spending was up by 21.5 percent from December 2019. The U.S. housing market -- bolstered by low mortgage interest rates - is projected to continue growing this year, according to the National Association of Home Builders, but at a slower rate than last year.
Regardless, it remains a huge market for plastic products. In construction, applications tend to value durability and have a long lifespan, sometimes remaining in use for several years, if not decades. Think PVC windows, siding or flooring, or polyethylene water pipes and the like. But still, sustainability is front and center for companies developing new products for this market. The aim is both to minimize waste during production, and to incorporate more recycled content into products such as roofing and decking.
Recycling honors for PVC product makers
The cores of Azek's capped composite deck boards consist of recycled materials.
The U.S.-based Vinyl Sustainability Council (VSC) recently presented its 2020 Vinyl Recycling Award to a pair of firms – Azek Co. and Sika Sarnafil, a unit of Sika AG. Chicago-based Azek has increased the use of recycled content in its TimberTech-brand of capped PVC deck boards from 30 percent to 63 percent. It sourced nearly half of the recycled material from external post-industrial and post-consumer sources, diverting some 300 million pounds of waste from landfills in 2019.
Canton, Massachusetts-based Sika Sarnafil, meanwhile, was recognized for using recycled content in the Sarnafil and Sikaplan brands of its single-ply roofing products. Those materials now contain a UL-certified 10 percent recycled content. Sika used the products to repair a 30-year-old PVC roof on the Rogers Center, a large arena in Toronto, Canada.
Luxury vinyl tiles boom as flooring option
Flooring is another fast-growing end use for vinyl in both residential and commercial construction. While cheap-looking, utilitarian vinyl has been used in flooring for many years, new production methods are helping to raise the quality and image of the product so that it can closely mimic wood or stone finishes while still being softer underfoot, durable and easy to clean.
One 2019 market study projects the luxury vinyl tiles (LVT) flooring market to grow from $18 billion in 2019 to $31.4 billion by 2024, registering a compounded annual growth rate of 11.7 percent from 2019 to 2024.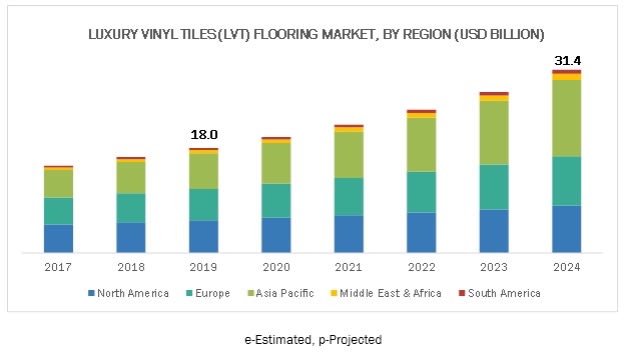 In terms of both value as well as volume, the Asia Pacific region is estimated to account for the highest share in the luxury vinyl tiles (LVT) flooring market during the forecast period from 2019 to 2024.
It also is growing in popularity for use in medical emergency and operating rooms, as these materials have a coating that resists chemical staining from medical products and bodily fluids.
In terms of both value as well as volume, the report states, the Asia Pacific region is estimated to account for the highest share in the luxury vinyl tiles (LVT) flooring market during the forecast period.