For the first time, PlastIndia 2009 saw awards for best stalls being instituted. This activity was judged by a panel of eminent industry professionals who judges stalls on the basis of aesthetics, knowledge and communication of product ideas. The awards were given to deserving stalls on the penultimate day of the exhibition.
PlastIndia 2009 also witnessed an interactive session on "Emerging Opportunities in Plastics in Assam." At the function the Chief Minister of Assam, Honorable Shri Tarun Gogoi, said, "We are developing a Plastics Park of 500 acres in Assam to provide state-of-the-art infrastructure for the plastics industry. The state has also initiated a 'Manpower Planning Project' to provide qualified, technical man power for the industry, this will also generate substantial employment in the state." The government of Assam in association with PlastIndia Foundation is organising 'North East International Plasto Fair 2009' from June 5 - 9, 2009. The main objective of the event will be to promote the development and growth of the Plastics Industry in Assam and project Assam as a potential investment hub for plastics.
At PlastIndia 2009 exhibitors were under various categories like Raw Material, Polymer & Resins, Intermediates, Blends & Alloys, Compositives, Specialty Chemicals, Master batches, Additives, Colourants, Fillers & Reinforcements, Processing Machinery; Ancillary Equipment/Instrumentation, Finished Products, Mould & Dies, Post processing equipment for Printing, Plating, Lamination, Surface Enhancement and Decoration of Plastics, Quality Control and Testing Equipment; Trade Promotion Bodies and Professional Associations, R&D, Education & Training Institutes; Technical Publishers, etc. SMEs (Small & Medium Enterprises) of the Industry participated in big numbers at the mega event and availed the benefits of the international platform.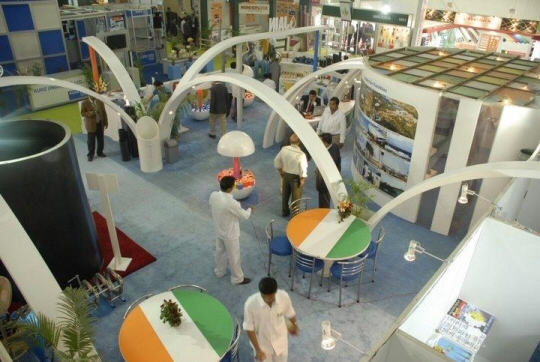 PlastIndia 2009 also housed new initiatives like: The Energy Saver Pavilion & The End User Pavilion besides the regular theme pavilions like Recycling Pavilion, Agri Park (Plastics in Agriculture) etc. A special pavilion titled 'The Medical Plastics Pavilion' was also housed to emphasize the role of plastics in the healthcare industry as well to highlight India's achievement in this regard.
Aiming towards making India a global sourcing hub for plastics, PlastIndia 2009 concluded on a euphoric note bringing the Indian plastics industry to the limelight and placing it on a global platform to explore further possibilities and strengthening the sunrise industry in India.
So finally, in living upto its commitment to the industry, PlastIndia Foundation provided the Industry the biggest platform ever for business with 1518 exhibitors (476 overseas exhibitors) spread over 77,000 sq. mtrs area covering 18 Halls & 16 Hangars and an exposure to over 1,30,000 business visitors. Business generated of over Rs. 1,000 crore is testimony to its success. Participation from 35 countries, with 20 country pavilions, 4 theme pavilions and 6 concurrent events made PlastIndia 2009 a truly 'Global Show' and the most well packaged event the Indian industry has ever witnessed.