PlastIndia 2009, the 7th International Plastics Exhibition & Conference organized by PlastIndia Foundation, the apex body representing India's plastics industry has witnessed a thumping success: un-precedented in the annals of PlastIndia Exhibition & Conference. The World's 2nd largest exhibition and conference brought together the who's who of the plastics industry on one platform resulting into exchange of expertise, technology know how, and innovations.
The inauguration of PlastIndia 2009 at the hands of H.E. the President of India, Smt. Pratibha Devisingh Patil is a high point for the PlastIndia Exhibition, and is a supreme sign of recognition of the importance of this industry to the Indian economy. In her address, Smt. Pratibha Patil voiced out her support to the growth of the plastics industry and reassured that plastics waste if managed well is wealth'. She called for a combined effort amongst the industry, government and civic society to act responsibly and manage the issues related to plastics better. She further observed that rapid urbanization and growth in retail business in India will result in high growth performance for plastics sector.
During the coming few years, Polymer consumption in India is likely to go up to 11 Million Tons from the current level of around 5.8 Million Tons as we expand our infrastructure."
Addressing the gathering, Shri Ram Vilas Paswan, Union Minister for Chemicals, Fertilizers & Steel, mentioned that Indian plastics industry has come of age and has contributed significantly to the economic development of India through employment generation, infrastructure development, innovation etc. He also mentioned that he would look into effective waste management with the help of State and Civic bodies which will directly help the Indian plastics industry.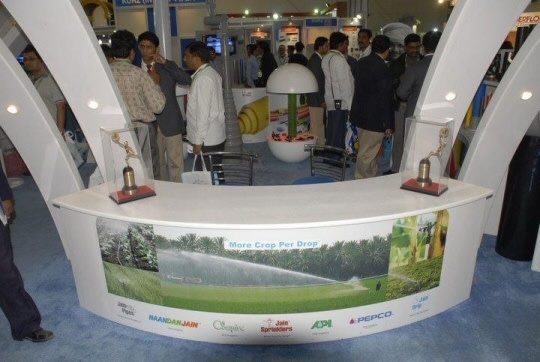 Speaking on the success of PlastIndia 2009, Mr. Arvind Mehta, President, PlastIndia Foundation, said: - The success of PlastIndia 2009 is a reflection of a definite growth path of the Indian plastics industry in past as well as in future. With PlastIndia 2009, PlastIndia Foundation has had a quantum leap ahead in placing the Indian plastics industry on the global radar.
He doted the success of the event to innovative and wide spread marketing of every facet of the well-packaged event. The well-orchestrated marketing activities spanned over 35 countries globally and over 50 cities in India.
Mr. Nikhil Meswani, Chairman, National Advisory Board, PlastIndia 2009, said that India will prove to be more resilient in fighting the global recession. He was also confident on the plastic industry because he analyzed that sectors like infrastructure, agriculture and retail will continue to grow, thereby enhancing the usage of plastics. He also mentioned that the plastics industry worldwide would go into a consolidation phase and Indian plastics industry would also need to seize such opportunities.
Mr. Mahendra Patel, Chairman National Executive Council PlastIndia 2009 said: - Compared to PlastIndia 2006, the PlastIndia 2009 has exceeded by 20 per cent more in gross area. PlastIndia 2009 exhibition has achieved astounding success with a record number of 1518 exhibitors which includes 476 overseas exhibitors occupying an area in excess of 77, 604 sq mts. Over a hundred and thirty thousand business visitors attended the show. The exhibitors were overwhelmed with the response.