Despite the slowdown and the present global economic scenario visitors have come from all across the world. PlastIndia 2009 has witnessed visitors from Latin American countries like Argentina, Brazil, Chile etc. The response from USA, UK and European countries has been phenomenal. It also witnessed a huge number of visitor participation from the African Continent. Participation from Far East and Middle East has also been very encouraging.
The business generated at PlastIndia 2009 is around Rs. 1,000 Crore (US $ 200 Mn.) which is a great achievement in the present economic scenario. It was noteworthy that exhibitors from North Eastern states and Jammu & Kashmir participated in good numbers. This shows the depth and reach of the Indian plastics processing industry across the country.
Proplast- the final word in processed plastic'proplast', an initiative taken in PlastIndia 2006, exhibited remarkable progress made by the India plastics processing industry and showcased India's enhanced capacities that make it the preferred source for high quality plastics products conforming to international standards.
Indo-China Summit - concurrent with PlastIndia 2009, the event also showcased India-China Plastics Industry Summit 2009, where both the countries discussed the business opportunity and trade complementation. The summit aimed at strengthening the trade in plastics between the two countries from USD 38.7 billion in 2007 to USD 60 billion by the end of 2010.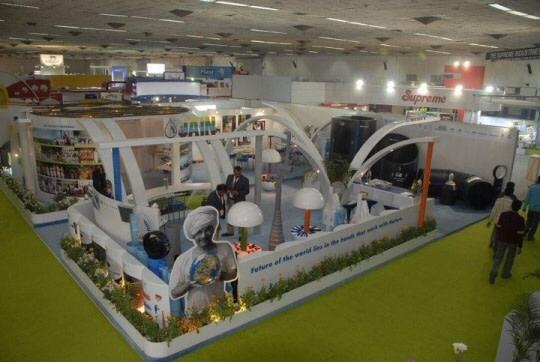 Speaking on the occasion, The Minister of State for Chemicals, Fertilisers and Mines, B K Handique, who was the Chief Guest, said that the time has come for the two countries to play a more coordinated role for the further growth of the industry. He said, "In the plastic industry, India and China are playing the role of torch bearers to be followed by the rest - he added, - To me, the most encouraging recent developments in India-China ties is the rapid increase in bilateral trade, with a more healthy contribution form the Indian plastic sector."
To further add to the celebration and the success story in PlastIndia 2009, the foundation felicitated the innovators in Indian Plastics Industry through 5th 'Plasticon Awards 2009' where the accomplishments and excellence in the Indian plastics industry were recognized. There were 23 categories like creative packaging, contribution to agriculture, recycling technology, conservation of energy, material and ecology, infrastructure, innovative product, best research, innovative plastics processing machinery etc.
Indo-US Summit Following the success of the India – China summit, and to bring the plastics industries of India and USA together for mutual cooperation and business promotion, PlastIndia Foundation with Society of Plastics Industry Inc., USA (SPI) had organized, the first India – USA Plastics Industry Summit 2009.