Programme of side events: Service, presentations and factory tours
The main focus of the special service exhibition was on digital solutions from Arburg. This included the new "arburgXworld" customer portal and the Arburg Remote Service (ARS). The latter was presented using a hydraulic Allrounder 320 C Golden Edition. With regard to the customer portal, service experts gave practical examples of the advantages offered in terms of searching and ordering spare parts, creating tickets and communicating with service technicians.
Arburg's expert presentations, given in German and English, on "Automotive engineering", "Freeformer", "Packaging" and "Road to Digitalisation" were attended by more than 1,400 participants this year. In addition, more than 1,900 guests took part in over 200 in guided factory tours. There were also numerous foreign groups who enjoyed a guided tour of the factory in their national language, accompanied by the respective representatives from their Arburg subsidiaries or trading partners.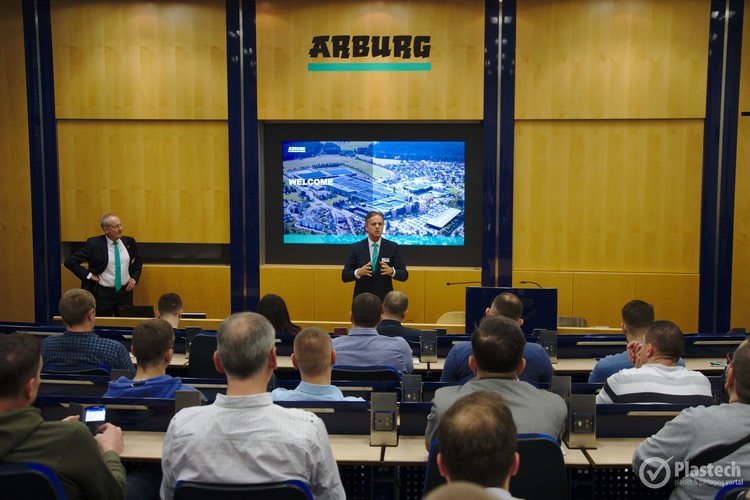 In expert presentations on the topics of "Road to Digitalisation", automotive engineering, Freeformer and packaging, guests were able to obtain information on current topics and trends on a daily basis.
The German family-owned company Arburg is one of the world's leading manufacturers of plastic processing machines. The product portfolio encompasses Allrounder injection moulding machines with clamping forces of between 125 and 6,500 kN, the Freeformer for industrial additive manufacturing and robotic systems, customer- and industry-specific turnkey solutions and further peripheral equipment.
The company places the topic of production efficiency at the centre of all its activities, taking into account the entire value chain. The objective is to enable Arburg customers to manufacture their plastic products, whether one-off parts or high-volume batches, with optimal quality and at minimum unit costs -for example for the automotive and packaging industries, communication and entertainment electronics, medical technology or the white goods sector.
An international sales and service network ensures first-class customer support at a local level: Arburg is represented by fully owned organisations at 33 locations in 25 countries and by trading partners in more than 50 countries. Its machines are produced exclusively at the parent company in Lossburg, Germany. Of a total of roughly 3,000 employees, around 2,500 work in Germany. About 500 further employees work in Arburg's organisations around the world. In 2012, Arburg became one of the first companies to gain triple certification: ISO 9001 (quality), ISO 14001 (environment) and ISO 50001 (energy).