During the Engel Packaging Day on 17 May at the new Packaging Center in Schwertberg and St. Valentin, Campetella exhibited two of its most impressive automation solutions.

Cycle time and energy efficiency were the most important efficiency indicators. Around 330 international guests joined Engel in Austria for the inauguration of the new Packaging Technology and Competence Centre.

Campetella celebrated its premiere with the new ultra-high-speed side entry robot Modula GS. 6 flower pots with Ø 9 cm were taken out from the side of an Engel e-speed 280/70 WP. The new Campetella side entry robot Modula GS is designed to take out and stack 6 flower pots in a total cycle time of 1.6 sec. "Taking out faster than free-falling", Campetella almost halves the cycle time and ushers in a new era of high-speed side entry robots. Hence, the new Modula GS is capable of producing approximately 300,000 flower pots per day.

We have recently developed a "telescopic Z-axis made of ultra-light carbon fibre technology", said Elia Campetella, CEO of the Campetella Robotic Center. Recently launched to celebrate the company's 125th anniversary, this new entry boasts a very compact architecture that significantly reduces the footprint on the ground, while lowering energy consumption and halving the loads on the guides, also thanks to the low-vibration Ultra-Light Carbon Technology.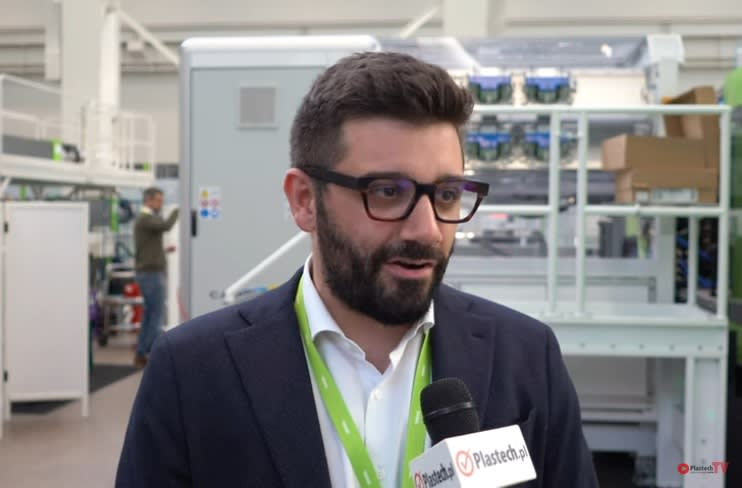 A servo-electric swivel axis transfers the parts to the non-stop servo-stacker, a flexible, precise and innovative system conceived to stack pots and cups of various diameters. The cavity distance and the product can be adjusted centrally.

The other Campetella High Speed Robot showed off during the Packaging Day event was the SM2 X-Series side-entry robot, in charge of taking-out either lids or 220 ml cups with an intervention time of 0.9 sec.

At the Engel' St. Valentin's premises, Campetella presented a fully automated stack mold packaging solution with vision inspection system on an Engel e-speed 420/90.
The centrepiece of the automation system is the new Campetella Side Entry IML robot Modula W X-Series designed to perform stack-mold applications on IMMs up to 450 tons and multi-cavity stack molds. IML Margarine Tubs of 425 gr were taken out of a 4+4 cavity mold with a total cycle time of 4.7 sec. by using a Plastisud compression molds.
The labels were placed in the mold by 2 laterally arranged label magazines on a 2-level stack mold. Plastisud's patented injection-compression molding process for stack molds allows for an extreme reduction of plastic material, clamping force, energy, footprint on the ground and machine capacity. At the end up of the automation line, a non-stop Scara robot by Campetella called Spin 2 X-Series boxed the parts. Spin 2 X-Series provides space optimization while stacking and boxing plastic parts next to the IMM into carton boxes or vertically into pallet containers. This very same complete production cell consisting of an IMM, an IML side entry robot, a vision inspection system and a SCARA SPIN 2 robot will be the main attraction of the Campetella's exhibition booth at K 2022 in Düsseldorf.