Borealis and Borouge, leading providers of innovative plastics solutions, will highlight their latest developments across a broad range of applications and end-user industries at Interplastica 2012, the leading platform for plastic and rubber technology in Russia, from January 24-27 in Moscow.
"Borealis has a strong commitment to the Russian market," says Gerd Löbbert, Borealis Executive Vice President Polyolefins. "We will be at Interplastica to emphasise our ability to turn local market needs into new products with an improved environmental footprint."
Numerous new products, applications and solutions will be showcased on the Borealis and Borouge stand number 1E32 including:
High performance BorPure™ polypropylenes for thin wall packaging
Borealis has expanded its range of BorPure™ random polypropylene (PP) copolymers with improved organoleptics. BorPure™ RJ766MO is intended primarily for transparent injection moulded, thin walled food packaging. Its excellent organoleptic properties mean that it will not impart taste or odour to the packaged product. Its tailor-made molecular weight distribution (MWD) and crystalline structure result in fast crystallisation and a good balance of stiffness and impact properties. The material's excellent flow characteristics enable processing equipment to run at lower temperatures than is possible with many competing materials with sufficient organoleptic properties.
Bormed™ polyolefins dedicated to healthcare
Bormed™ polyolefins meet the highest quality standards and fulfil all regulatory requirements for pharmaceutical and medical applications. They offer regulatory compliance, special production and quality control procedures, and extended technical support. Latest developments include Bormed™ LE6609-PH for bottles and ampoules produced by blow, fill and seal (BFS) technology and Bormed™ SC820CF for soft medical film, pouches and tubing. Bormed LE6609-PH was designed specifically to satisfy the elevated security and performance demand for sterilised products, reductions in material use and more efficient manufacturing. Bormed SC820CF for primary and secondary medical pouches is a random heterophasic PP copolymer that can be processed on cast- and blown film lines.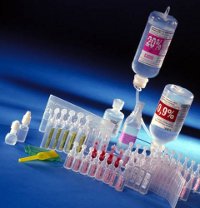 Transparency boost for polypropylene cosmetics and baby bottles with Borclear™
Next generation high performance PP Borclear™ RC737MO creates differentiation, cost-efficiency and sustainability advantages for converters and brand owners in the fast moving consumer goods market. Intended specifically for cosmetics and baby bottles, it provides a leap forward in aesthetics by influencing the gloss, haze and clarity of bottles. When compared with next best alternatives like metallocene grades Borclear RC737MO offers better surface scratch resistance to ensure longer-term consumer attractiveness.