Pipe grades to improve sustainability and value creation below and above ground
BorSafe™ PE100 LS-H for underground water pipe systems and BorECO™ BA2000 for sewer networks offer durability and reliability that provide for pipe systems with a long, low maintenance service life. They lend themselves to installation with the most recently developed installation methods that combine speed and efficiency during pipe-laying with minimal environmental disruption.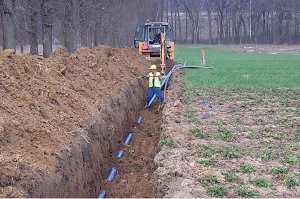 For hot and cold water pipe, Borealis has a long track record as a supplier of crosslinked polyethylene (PEX). One of its latest PEX-a grades, BorPEX™ HE1878E, is specially designed to enable latest twin-screw extrusion lines to produce high quality pipe at high line speed. It is also especially suitable for large diameter pipe production. A fully stabilised, chlorine-resistant version, BorPEX™ HE1878E-C2, is also available in mini-pellets.
With its Beta-PPR™ brand, Borealis has also been leading the development of random PP copolymers (PP-R) for pipes, with the establishment of the new PP-RCT class. The material has an enhanced crystalline structure enabling the material to operate at higher stresses at elevated temperatures. Pipe producers can make considerable savings for example through reductions in wall thickness. Likewise system owners can also benefit from increased hydraulic capacity.
Wire and Cable solutions
Borealis and Borouge are the global leaders in plastics for the wire and cable industry and are committed to be recognised leading innovators. They continue to develop and produce high quality productivity solutions that enable cable makers to manufacture quality cables according to the highest industry standards while maximizing production output. The portfolio includes: Supercure™ LC8205R, delivering high water tree protection and outstanding electrical performance in medium voltage crosslinkable polyethylene (XLPE) insulation; Visico/Ambicat reactor-based silane copolymers for high productivity and fast crosslinking of low voltage cable insulation and Borstar® bimodal PE that, with its unique combination of broad processing window and low shrinkage, is especially suitable for fibre optic cable jacketing.
Source
: Borealis
For further information please contact
:
Dorothea Wiplinger
External Communications Manager
Vienna, Austria
+43 1 22 400 608
dorothea.wiplinger@borealisgroup.com