At the Plastpol 2019 from 28 to 31 May, Wittmann Battenfeld Polska will present to interested trade visitors ultra-modern machine and process technology together with state-of-the-art robots and auxiliary appliances for the plastics industry at booth No. F11 in hall F.
For the Wittmann Group, the Polish market has been one of the most important European markets for many years. Since the beginning of 2016, Waittmann has been present in Poland with its own sales and service subsidiary and is using the Plastpol jointly with its subsidiary Wittmann Battenfeld Polska to present its latest developments to the Polish market.
At this year's Plastpol, Wittmann Battenfeld Polska will show to its visitors, in addition to the state-of-the-art robots and auxiliary appliances from the Wittmann Group, a dynamic high-speed machine from its EcoPower Xpress series and a machine from its new Vpower series of vertical machines.
With the EcoPower Xpress, Wittmann Battenfeld Polska will demonstrate its expertise in the field of packaging machines. The EcoPower Xpress is a high-speed, all-electric high-performance machine, which is of interest mainly for thin-walled applications in the packaging industry. The machine on display, an EcoPower Xpress 160/1100+ with 1,600 kN clamping force, is the smallest model in this series, which is currently available with clamping forces of up to 5,000 kN.
EcoPower Xpress 160
At the Plastpol, the EcoPower Xpress 160/1100+ will be shown producing a lid made of PP (Borealis, Austria) with a 4-cavity mold, using IML technology from Wittmann. The IML system is a high-speed model with a W837 pro side-entry robot. With the help of anticipatory signal exchange transmitted in real time between the machine and the robot, the mold opening time can be limited to an absolute minimum. This technology, developed and patented by Wittmann, is known as SmartRemoval. The lids are produced within a cycle time of roughly 3 seconds. The machine will be equipped with the CMS condition monitoring system from Wittmann Battenfeld, which ensures continuous condition monitoring of its most important parameters.
Moreover, the new series of vertical machines in PowerSeries design, represented by a VPower 160/750 with a rotary table 1600 mm in diameter, will be showcased in Poland for the first time. The new VPower stands out primarily by its high energy efficiency, compactness and user-friendliness. The machine's generously dimensioned rotary table is powered by a servo-electric drive as standard and laid out for short rotation times. The injection unit can be converted from vertical to horizontal and vice versa even after commissioning. The absence of a central tie-bar enables central media supply from below through the rotary table or the installation of a compact rotary manifold. Thanks to its open design, the machine is ideally suited for the integration of automation systems with insert feeding and finished part removal functions.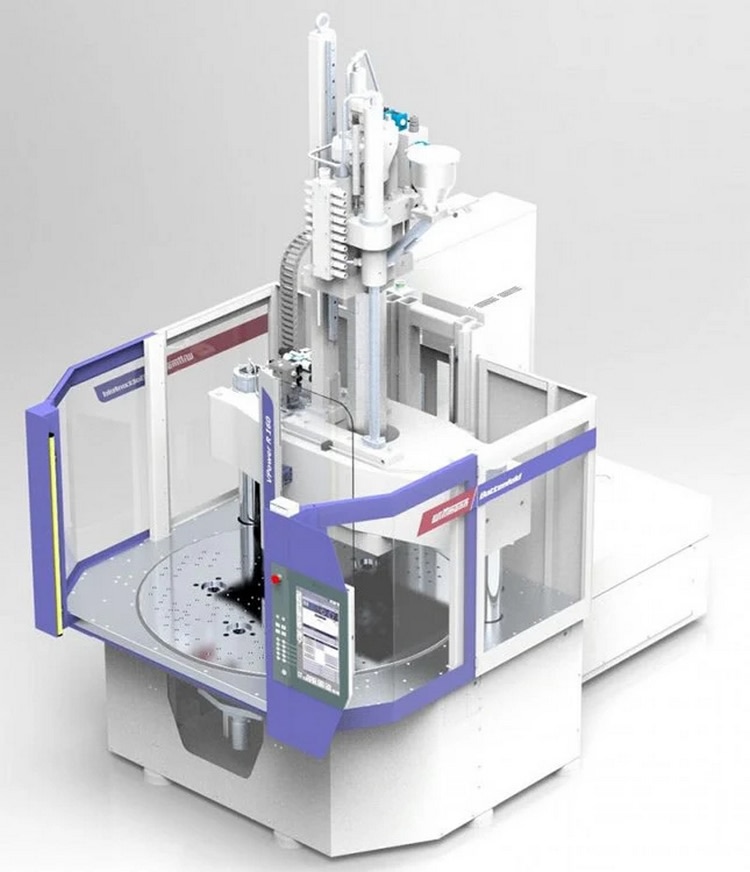 VPower 160/750 with a rotary table 1600 mm in diameter