The film manufacturer RKW, who produces, amongst others, films and nets for the agricultural industry, puts special emphasis both on saving resources and recycling its products. Therefore, RKW is co-founder of the recovery system for crop plastics "Erntekunststoffe Recycling Deutschland" (ERDE). This initiative helps farmers and contractors to collect used agricultural films that are recycled for the production of new plastics. In a new video (http://www.rkw-group.com/erde-video.html), ERDE shows the benefits for end users and the environment. For RKW, recycling is one of the most important activities regarding sustainability.
Sustainability is a key topic in the plastic industry and an integral part of the corporate policy of RKW. In all phases of a product's lifecycle from its inception to the end of its life, RKW strives to save natural resources, reduce emissions, avoid waste and environmental pollution, and to optimize logistics. In this respect, recycling plays a particularly important role.
"Each RKW Site has its own recycling facilities," explains Dr. Thomas Gröner, Director Corporate R&D and responsible for sustainability at RKW. "This is where we process almost all of the inevitable production waste into high quality re-granulate. As a value-based company, we are also active in multiple organizations to advance our sustainability strategies and activities. One of these organizations is ERDE Recycling."
Along with three other film manufacturers, RKW has launched this German collection and recycling system under the umbrella of the association IK Industrievereinigung Kunststoffverpackungen e.V. and in cooperation with waste disposal specialist RIGK. The member companies additionally fund the initiative, which offers collection services for used silage films and silo bags, among others.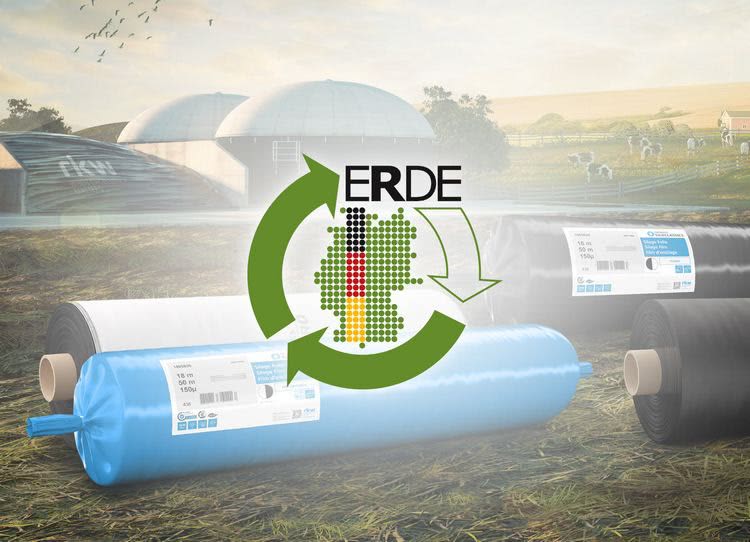 A new video from ERDE Recycling shows how simply and efficiently the system works. Contractors and farmers can hand in their used films at one of the 322 collection points in Germany. The films are pressed into bales and processed into resources for new plastic products, such as re-granulate. Thus, the material cycle is completed.
Not only the environment but also film users benefit from the initiative: They receive a bonus for returning the used films, which can be redeemed at the next purchase. The recovery system is becoming increasingly popular. In 2017, ERDE set a new collection record. Compared to the previous year, the initiative managed to grow the volume of collected films by more than 30 percent to 7,061 tons.
Source: RKW Group