Key business and technology issues facing the polyethylene and polypropylene supply chains got a good airing at the PEPP 2009 global congress on polyolefins organized by Maack Business Services in Zurich in October. This annual meeting regularly attracts representatives from virtually all the world's top polyolefin suppliers, and many of their customers.
Subjects coming under the spotlight this year included:
the worsening polymer supply/demand imbalance;
the increasing importance of supply logistics for bringing materials into Europe and North America from new mega-plants in the Middle East;
the enduring importance of low density polyethylene in critical packaging applications;
the advantages of comonomer flexibility for suppliers and users of linear-low density polyethylene;
the role of additives in cost containment at polymer suppliers and processors.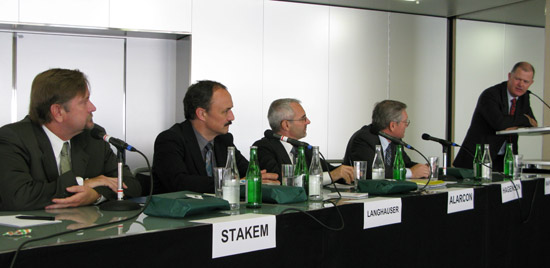 In his scene-setting presentation, Konrad Scheidl, Executive V.P. and Partner at MBS, emphasized the global shift in PO production capacity. While 20 years ago, close to two-thirds of all global polyethylene capacity was in Western Europe and North America, by 2015 it will be just one-third, and the regions will be major net importers. The Middle East, China and Asia Pacific will have tripled their share to almost half, although China will still be a net importer. And all the while, total capacity will have almost quadrupled. Data for polypropylene are quite similar.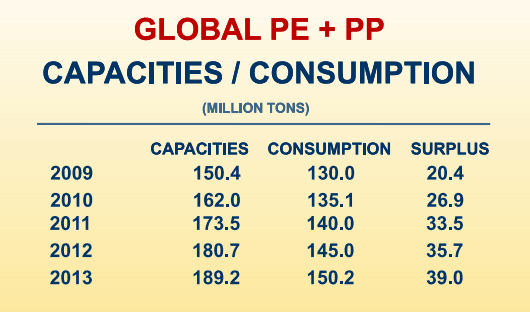 Global PE + PP capacity surplus through 2013 (Source MBS)