Smart machines
The Moretto 4.0 project is a concept of Smart Industry where machines and software are interconnected, allowing constantly-refreshed data to always be available for achieving the highest possible levels of efficiency.
The 4.0 factory is able to automatically adapt the output to the needs of the market, predict in advance possible breakages or downtime and have a real time remote support. Today's challenge is to move from fragmented services to an interconnected supply chain model. The 4.0 impression is evident on all Moretto product lines.
At Plast Moretto presents MOWIS 3, the new update of the supervision and integrated management system for the connection of the machines and the control of the entire automation chain in plastics processing plants.
Mowis overcomes the barriers of traditional supervision by adapting to the needs and quality, production and management objectives of each client. A modular software with unique, auto-configurable and user friendly interface which allows immediate display of the system status. With Mowis the integrated process control is easily managed from any location, on-site or remote. Built on SCADA system Mowis makes safe and immediate the exchange of data between standard modules, taylor-made modules and the customer management system.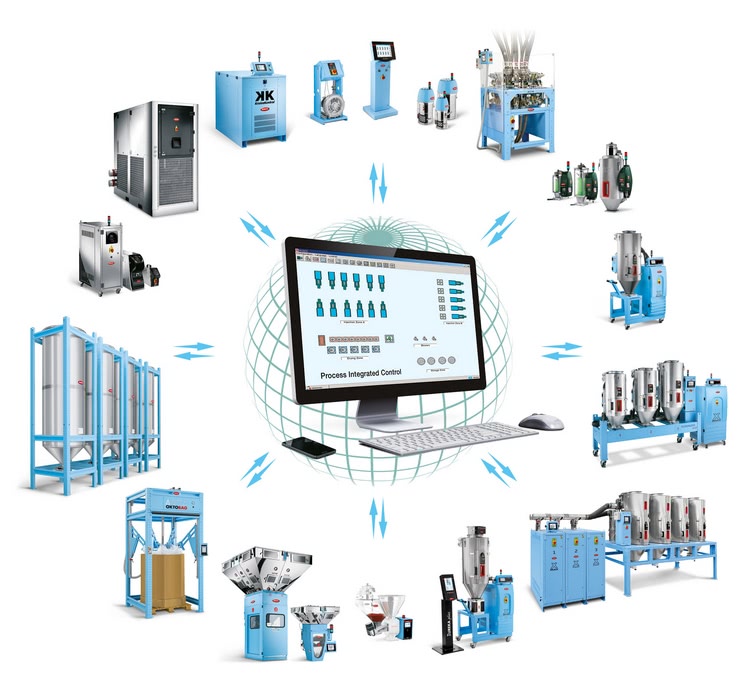 Kruis Kontrol, It is certainly one of the most sophisticated automation machines proposed by Moretto. A fundamental tool for feeding systems, able to automatically control and manage the speed of each material profile by guiding the granule to the destination at the most suitable speed, eliminating speed peaks, thus avoiding the phenomena of angel hair creation, dust and pipe wear. The exclusive patented Moretto technology defines, in fact, what are the best transport conditions for each material and guides it in the pipes up to the transformer machine. Kruise Kontrol is completely automatic, the operator must only set the type of material and the machine to be fed. The system automatically establishes the perfect transport condition for each individual cycle and, through self-learning, manages the speed of the granule smoothing the peaks and ensuring the best performance.
In 2017 Kruise Kontrol has been officially recognized from the European Patent Office (EPO) like "the only automatic and intelligent plastic material conveying system in the world."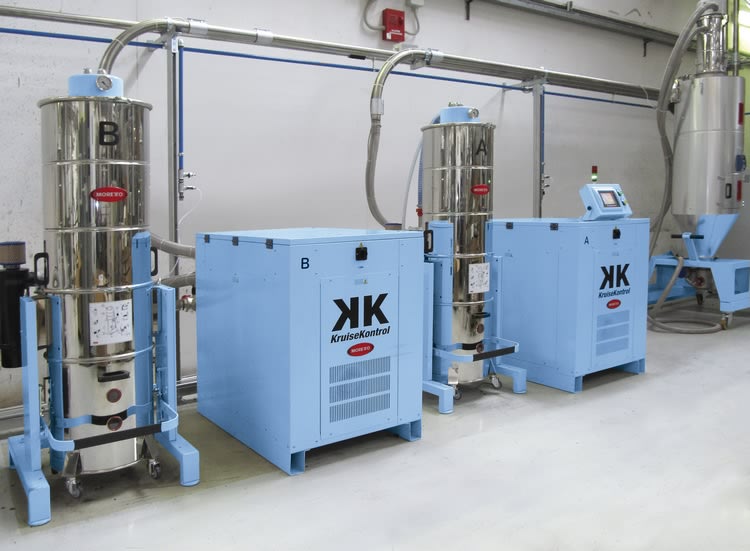 ONE WIRE is the intelligent transport system developed by Moretto. "Intelligent" because it is able to automatically handle the demands of the individual receivers, to adapt to changes and manage the entire process with maximum efficiency, without resorting to manual settings.
A single server could manage up to 80 receivers, 8 indipendent vacuum units, 4 Kruise Kontrol, 4 Dolphin manifolds, 4 manual manifolds and 10 info screens. All the equipment of the transport system can be programmed and controlled, from any point of the network, through the Touch View interface and handheld with the palmtop touch Master 600, One Wire is prepared for Mowis.
The range of KASKO receivers and containers and the automatic manifold DOLPHIN complete the exhibition.
Source: Moretto