Further product premieres at FachPack and Scanpack
Visitors to the FachPack and Scanpack fairs can view some of Mondi's latest solutions for the e-commerce industry.
New products offer advanced features that support business growth among retailers and create a convenient and effortless shopping experience for end users.
Mondi Vino Box Sprint is specially designed for wine merchants that increasingly fulfil online consumer orders. This corrugated box comes with an integrated pop-up divider insert efficiently packing up to six bottles for safe delivery.
Compared to older versions of this packaging, the box and divider insert are now delivered in one piece ready for instant filling without any taxing assembly or multipiece handling. This saves precious time when preparing orders for shipping - cost-effectiveness that allows online retailers to better profit from their market growth.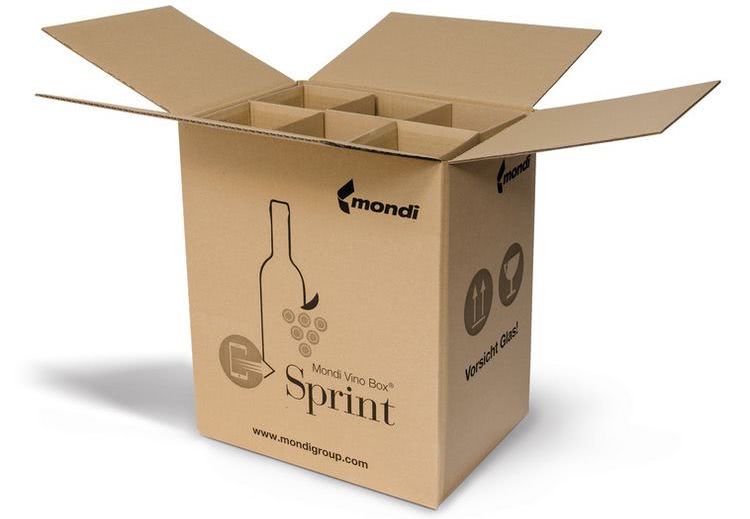 Mondi Vino Box Sprint
MailerBAG is a reusable and recyclable paper bag for e-commerce shipments. Its flap has a double adhesive strip with release liner, making it easy for consumers to reuse the same packaging to return any unwanted items. Mondi's corrugated Re(use) box follows a similar concept: equipped with a double-tape and a tear-open strip, it simplifies shipping, opening and returning a parcel without any difficulties or tools like tape and scissors. Having been successfully introduced to the German and Polish markets, it will now also be available to customers in other countries.
At FachPack and Scanpack, Mondi will present its latest containerboard portfolio member ProVantage Powerflute. Designed for the safe packaging and transport of fruits and vegetables, ProVantage Powerflute is an industry leader in resisting moisture and humidity. It thus ensures more reliable packaging performance, particularly for long-distance transport of valuable goods.
Mondi ProVantage Powerflute
At these fairs, Mondi will also exhibit its recently launched speciality kraft paper grade: Advantage Formable brown. Thanks to its unique paper properties that allow a symmetrical material stretch, the grade is ideal for numerous applications in food packaging such as shallow trays.