Silky-smooth Compounds for Consumer Electronics
KRAIBURG TPE's newly launched range the VS/AD/HM series offers silky, satin-smooth surfaces that feature high scratch and abrasion resistance, excellent durability and resistance against chemicals such as sebum oil, creams and common household detergents. The series is designed for consumer electronics applications.
The VS/AD/HM series has been specially developed for applications that require a silky and velvety surface, along with excellent adhesion to polar thermoplastic compounds such as PC, ABS, PC/ABS, PU, ASA, SAN, PA12 and PA6. Available in natural color and black, the compounds also have impressive processing properties. Example applications include controllers for games consoles, remote controls and headphones, toys, protective covers for mobile phones, tablets and cosmetics packaging.
Highly-Transparent FDA Compounds with Optimal Flow
Among other innovations, KRAIBURG TPE will also showcase its FC/ht series. This series is the highly transparent material solution for applications such as seals in food packaging, tooth-brush handles, detergent pods and toys. The compounds are characterized by its excellent adhesion to PP as well as its high-flow processing behavior. The series offers a smooth, non-sticky feel and because of its high transparency, it is also ideal for applications requiring custom pigmentation or vibrant colors, a forte of KRAIBURG TPE.
KRAIBURG TPE is a global manufacturer of thermoplastic elastomers. From its beginning in 2001 as subsidiary of the historical KRAIBURG Group founded in 1947, KRAIBURG TPE has pioneered in TPE compounds, today being the competence leader in this industry. With production sites in Germany, the US, and Malaysia the company offers a broad range of compounds for applications in the automotive, industrial, consumer, and for the strictly regulated medical sectors. The established THERMOLAST, COPEC, HIPEX, and For Tec E product lines are processed by injection molding or extrusion and provide numerous processing and product design advantages to manufacturers. KRAIBURG TPE features innovative capabilities as well as true global customer orientation, customized product solutions and reliable service. The company is certified to ISO 50001 at its headquarters in Germany as well as in Malaysia and holds ISO 9001 and ISO 14001 certifications at all global sites. In 2017, KRAIBURG TPE, with over 600 worldwide employees, generated sales of 178 million euros.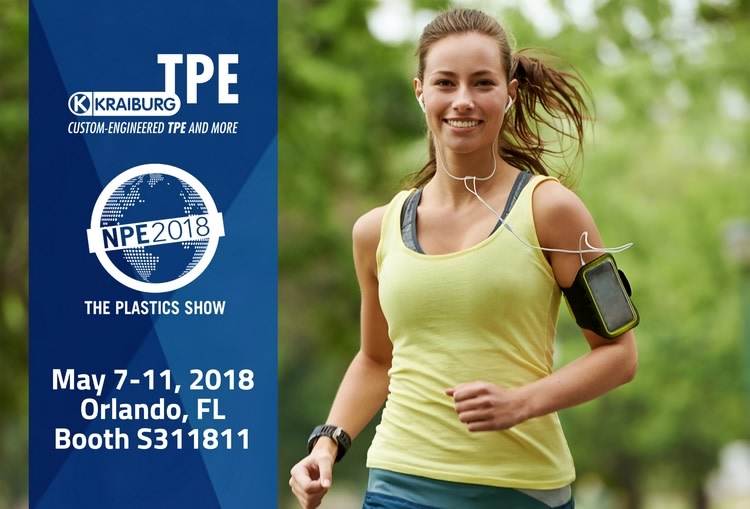 Source: Kraiburg TPE