The pandemic has not been kind to automotive sector. In a recent report, French automotive data and market research company Inovev projected that global automobile production will fall by 17% over the whole of 2020, representing a loss of 15 million vehicles compared to 2019 and returning volume to 2011 levels. 
But there still are signs of hope and optimism. China, for example, reopened its auto-making facilities sooner than those in other nations, and countries such as Japan and South Korea were less affected overall by the pandemic. Additionally, the growing trend toward electric vehicles (EVs) and self-driving autonomous (and semi-autonomous) vehicles is creating opportunities for new and expanding applications for a variety of advanced plastic and composite materials. 
In the U.S., Pete Buttigieg, President-elect Joe Biden's nominee to be secretary of transportation, has declared that he wants to help put "millions of electric cars" on U.S. roads. Such growth will help to further drive sectors such as the polymer-intensive automotive radar market, which is projected to reach US$12.2 billion by 2025, growing at a compound annual growth rate of 20.8%, according to Grand View Research Inc.
In a recent interview with Sustainable Plastics magazine, Yanfeng Automotive Interior Systems Co. Ltd.'s Jeff Stout stated: "Some time, in the not so distant future the interior will look completely different and the use case will be completely different, but it will still all be plastic." Stout, the firm's executive director of global Innovation, says Yanfeng practices design for disassembly where possible, is looking closely at chemical recycling, and continues to develop alternate options, such as its Compression Hybrid Molding (or CHyM) process, in which the primary matrix is a natural fiber mat.
EVs and hybrid vehicles require lightweight, durable, high-temperature-resistant plastics, as well as technology for molding integrated electronics into the growing number of touchscreens and embedded lighting options that are finding use in interior cabins. Let's look at a few examples. 
Mono-material headlamp
Germany-based Covestro AG has adopted a mono-material strategy, combined with multi-shot molding and in-mold assembly, to develop a multifunctional vehicle headlamp with numerous benefits. The new design concept cuts the number of components from more than 50 to five, is significantly less expensive to manufacture, weighs less, and is more sustainable than current models. It involves extensive use of polycarbonate (PC), including the firm's Makrolon TC 8030, a high-end, thermally conductive PC. This enables the replacement of aluminum heat sinks with the molded material. Each resulting headlamp assembly can weigh nearly 4 pounds less than current, traditional models.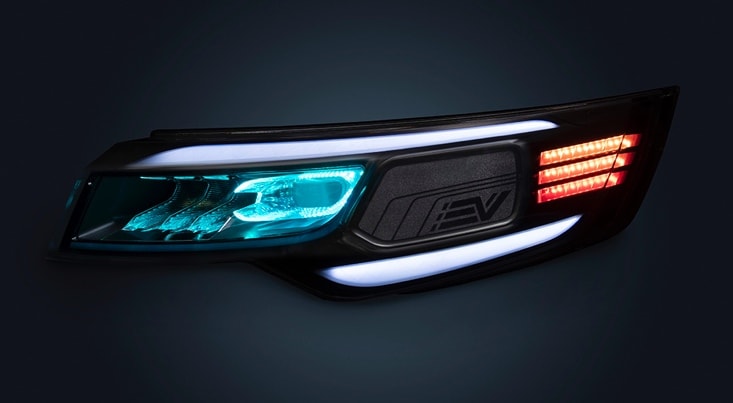 This design concept of an all-polycarbonate headlamp assembly by Covestro sharply reduces weight, part count and complexity. (Image courtesy of Covestro)
Covestro says it developed this new design concept initially with electric vehicles in mind, because polycarbonate can be susceptible to various chemicals and oils that exist in internal combustion (IC), gas-powered engines. The company continues to work on ways to protect the back of the module from chemical exposure, which would enable the new headlamp design to function equally well with IC engines. 
VW goes lightweight 
Volkswagen of America's polymers laboratory near the company's Chattanooga, Tennessee, plant is working to create innovative solutions to help make cars lighter and more fuel-efficient.
"We have to incorporate lighter parts to help offset the weight of the car's heavy [lithium] batteries," says VW laboratory evaluation specialist Ellen Collins. "We believe that polymers are the future … and hope that all car companies are taking the same approach because the sooner they bring down the weight of their vehicles, the quicker we can work toward reducing our carbon footprint." 
VW's Atlas SUV is using lightweight polypropylene in its door frame. (Image courtesy of Volkswagen)
The company notes the lab recently had success working with suppliers on producing a lightweight polypropylene to incorporate on the door frame of the Volkswagen Atlas. "We were able to reduce the weight of the part while preserving its same characteristics," Collins noted.