Accompanying the growth of China's plastics for over 17years, China Plastics Exhibition & Conference (China PEC) has become a distinguished meeting and business platform for plastic industry and has also largely contributed to it's prosperous development.
At present, China Plastics Exhibition & Conference is the only exhibition in the plastics industry supported by the Ministry of Commerce of China.
China PEC is also widely recognized by the industry as the one of the most influential exhibition in China and It is an established exhibition brand in China, fully endorsed and supported by the plastics industry. It's a showcase for all the elements of the industry, such as plastic products, raw materials, machines, mould and dies related technologies.
China PEC'2018 will have 1,600 booths, 600 exhibitors with a total exhibition area of 35,000 m
2
.
Taizhou - China's largest plastics industrial base
Known as "the Kingdom of Plastic Products" and "Hometown of Moulds", the city of Taizhou is the largest processing and distribution base of plastic products in China, where the annual consumption of raw materials accounts for 10 per cent of national consumption. At the same time, there are more than 11,000 enterprises specialized in the plastic industry, and their annual sales reach 80 billion RMB (About USD 13 billion). In 2017, the consumption of plastic raw materials in Taizhou was more than 6 million metric tons, which took nearly 10% of total consumption in China.
Thus Taizhou is not only the barometer of the plastic materials market in China, but also the key sales market for the plastic manufacturers of brand raw materials, machinery, and molds.
The Kingdom of Plastic Products
Taizhou is the largest production base of plastic products in China with the most abundant products and lowest price.
Taizhou is also the largest plastic products distributing center in China, China's largest Plastic Products Market was situated in Taizhou with the area of 15,000 m2, has about 2,000 booths and can exhibit 10,000 kinds of plastic products
The Hometown of Moulds
There are more than 2,000 mould manufacturers in Taizhou, Total output value produced by these manufacturers in 2015 reached 10 billion RMB (About USD 1.6 billion). The price of plastic moulds manufactured in Taizhou is comparatively lower, which is only 10% of those made in other countries.
China PEC - Pioneer Plastic Exhibitions
China PEC is a grand platform bringing together all brilliant and latest achievements in plastic industries, including machines, mould, plastic products and raw materials. For the support and rave reviews from more than 60 domestic plastic industry associations and hundreds of foreign associations, China PEC has been continuously titled as the Pioneer Plastic Exhibition by the Ministry of Commerce for 13 years from 2005 to 2017, which few domestic exhibitions can win this honor.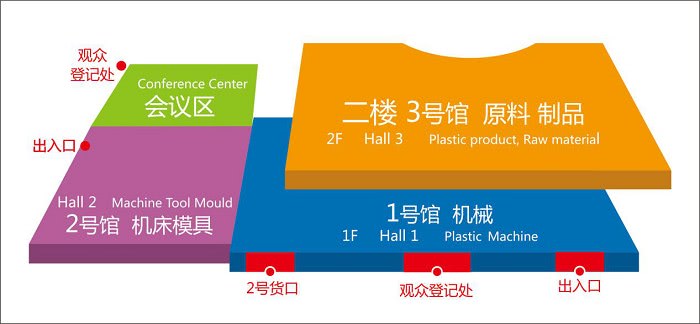 Source: Taizhou International Convention & Exhibition Center