A highly successful Chinaplas 2018 concluded its four-day show on April 27, 2018, in Shanghai. The rainy weather prior to the opening of the 32nd edition of show did not hamper the enthusiasm of visitors, who were inspired by smart manufacturing, innovative materials, and green solutions. A total of 180,701 professional buyers from all over the world visited Chinaplas during the four days at the new show venue, the National Exhibition and Convention Center (NECC), Shanghai, PR China. Chinaplas 2018 recorded the highest visitor count in history, and the show also set a new record in terms of exhibition space.
A record number of visitors
Chinaplas 2018 attracted 180,701 professional buyers. The number of overseas visitors totaled 47,900, accounting for 26.5% of the total. They came from 150 countries and regions, including Hong Kong, India, Indonesia, Iran, Italy, Japan, Korea, Russia, Taiwan, Thailand, Turkey, the U.K., Vietnam, and United States, among others. Compared with the Shanghai edition of show two years ago (at the previous venue in Pudong), the number of visitors increased remarkably by 21.6%. The total also rose by 16.4% compared with last year's Guangzhou edition of the show.
Ada Leung, General Manager of Chinaplas organizer Adsale Exhibition Services Ltd., was delighted by the results. "I have never seen such a huge number of visitors before," she said. "Most of our exhibitors were satisfied with the result," added Leung.
New record for exhibition space
Chinaplas 2018 was the first edition of show to be held in the NECC, and allowed the organizer to accommodate the strong booth space demand. With the much larger NECC, Chinaplas set a new, all-time record for exhibition space in the show's 32-year history. The exhibition area covered 340,000sq.m., an increase of 100,000sq.m. compared to the Shanghai edition two years ago. Some 3,948 market leaders exhibited and brought cutting-edge solutions to the world stage during the show period.
From 2012 onwards, Chinaplas has faced the problem of an exhibition space shortage. When the show was held at the Shanghai New International Expo Center in Pudong, all the indoor exhibition halls had been used up. It took the CHINAPLAS team two full years to shift Chinaplas to the new venue.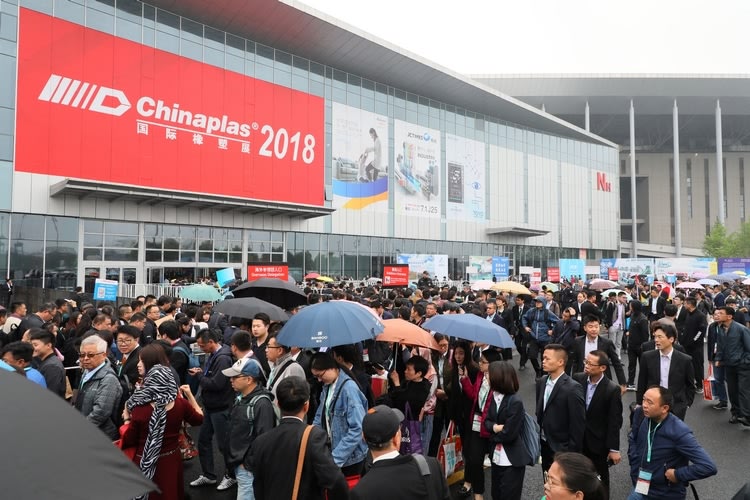 "In moving to NECC, Chinaplas this year marked a new milestone in her history," Leung said. "To outsiders, many may think that the successes of Chinaplas came very naturally or easily as the show has been well established in the market. But we all know this is not the case. The achievement of the Chinaplas show is the result of hard work, perseverance, the pursuit for continuous improvement, sensitivity to market needs, creativity and seamless collaboration among internal teams and with our different cooperation partners. The last 24 months were very tough, but we have been rewarded by the positive results," she said. "Visitors are satisfied with the theme zone arrangement, as they can more easily find clusters of exhibits that address their specific interests."