Preview K 2010 - Statement by Werner Matthias Dornscheidt, President and CEO, Messe Düsseldorf GmbH. K 2010 will be held from 27 October to 3 November 2010. This trade fair is the biggest worldwide event for plastics industry.
Plastics and rubber are an indispensable part of everyday life. Cars, aircraft, computers, telephones, televisions, the construction industry, the sport and leisure sector and, last but not least, packagings are no longer conceivable without plastics. Plastics also make decisive contributions in the areas of food and hygiene, and in modern medicine.
Despite the wide distribution of these materials, the plastics industry is still relatively young, and is correspondingly dynamic and innovative. The image of the sector is characterised by new products, new processes and new applications, but also by increasingly keen competition. Raw materials producers, processors, manufacturers of plastics and rubber processing machinery, and all users need an international flagship trade fair - a world-class information and communications forum - as a solid basis for commercial decisions. This flagship trade fair is K Düsseldorf.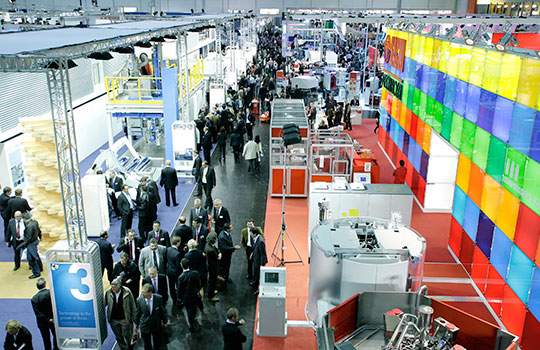 The successful partnership between the plastics and rubber industry and Messe Düsseldorf has existed since 1952. And despite the unsettled global economy, companies from all continents have high hopes of K 2010. This is clearly reflected in the registration figures: all 19 available trade fair halls are fully booked, and not a single company of note is absent from the list of exhibitors. About 3,000 companies will be present at the flagship trade fair, which will be held from 27 October to 3 November 2010. In all, the net exhibition area will again exceed 160,000 square metres.
The lively interest shows that exhibitors are convinced of the necessity to be present at the sector's largest marketplace - even, or especially, in difficult times. This will certainly also be true of the 200,000 trade visitors from around the world who are expected to attend K 2010 in Düsseldorf. Everyone who is anyone in the plastics and rubber industry will take advantage of this outstanding opportunity to become acquainted with the latest products on the world market and the pioneering trends. This opportunity is available only once every three years - at K Düsseldorf.
The clearly structured layout will enable visitors to K 2010 to find their way around easily despite its size, so that they can find the information they need for their professional interests without engaging in tedious searches or having to take detours:
Manufacturers of machinery and equipment are traditionally the largest group of exhibitors at K, and will occupy halls 1 to 4 and 9 to 17, which account for about two thirds of the total exhibition area
Suppliers of raw materials, semi-finished products and technical parts are assigned halls 5 to 8a. Hall 8b, at the interface between the thematic exhibition zones, will house, among other things, the joint presentation by the Chinese industry, and will include exhibits from all categories.
The exhibitors' ranges will be supplemented by future-oriented elements, which will be dealt with in the special review "Visions in Polymers". In daily panel discussions, top academics and experienced users will address questions such as what our daily lives will look like 20 years from now, how plastics can contribute to solving major problems, and which potential applications that are now viewed as visionary will become reality within the next two decades. On the basis of examples from different areas of life, speakers will explain which development trends can be discerned, and which innovations the industry has in its pipelines. Special emphasis will be placed on the themes of energy efficiency and resource conservation.