The special review is being organised by the German Plastics Association under the auspices of PlasticsEurope Deutschland e.V. and Messe Düsseldorf.
No other trade fair for the plastics and rubber industry offers such a large and varied array of ideas and products as K 2010 does. The internationality of the exhibitors guarantees that all segments will be represented at world market level. Companies from every continent have signed up to present their innovations. Suppliers from Germany, Italy, Austria, Switzerland and the USA will again be especially strongly represented, as will Asian manufacturers from China, Taiwan and India. They include not only the global market leaders but also numerous interesting newcomers.
All these companies are already working hard to prepare for K 2010, as every exhibitor wants to present itself in the best light at the sector's most important trade fair. In this case, "in the best light" means "with attractive innovations". Innovations are the alpha and omega of competition, and know-how gives its possessors a crucial edge in the fight for markets and market shares. The question of how to achieve success in the face of fierce international competition can be answered briefly and succinctly: through innovative products and technologies, which offer real benefits to customers.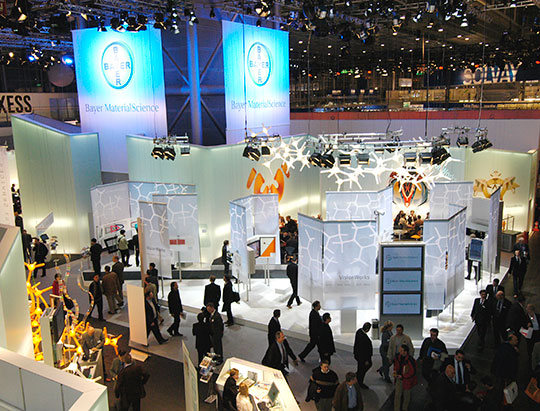 It would certainly be presumptuous to claim that K Düsseldorf, with its three-year cycle, is the only forum at which new technologies are presented. It is indisputable, however, that K is the only trade fair worldwide that offers such an abundance of innovations. The innovations clearly focus on delivering benefits and meeting customer needs. Customers of machinery manufacturers and raw materials producers have been affected just as much by the consequences of the crisis as their suppliers. They are also desperately seeking solutions that will help them to manufacture and sell their products more efficiently, at lower cost, using less energy and materials, and if possible with improved properties. Each solution, each further development, is very welcome.
This applies not only to manufacturers of plastics and rubber products. Industrial end users appreciate K equally highly and visit it in order to take home new ideas for their sector and their products. The exhibitors, in turn, target this customer group. Almost half of the companies that participate at K aim their products and services directly at industrial users of semi-finished products and technical parts.
K has therefore become the main information forum for developers, designers and manufacturing experts from numerous industrial sectors. First among these is the automotive industry. About 40 percent of all exhibitors that present products and services for industrial users at K offer innovations for this particular industry. One third present innovations for medical technology, then come electrical engineering and electronics, transport, packaging and logistics, and the consumer goods industry.
The exhibitors' range of innovations make K 2010 the sector's globally most important business forum. In every exhibition area, the range will include everything from standard to high-tech solutions, from proven processes to visionary strategies. Companies that work with plastics and rubber, or want to offer customers more attractive products, or are planning new investments, or would like to see what the competition is doing all know that K is a must if they are to strengthen or expand their position in the market.