Besides exhibitors, CHINAPLAS 2011 has also won support from various user industry associations, including: Shanghai Federation of Economic Organization, Shanghai Automotive Trade Association, Shanghai Medical Instrument Trade Association, Shanghai Chemical Building Material Trade Association, Shanghai Electrical Apparatus Manufacturers' Association, Shanghai Beverage Association, Shanghai Communication Industry Association, Shanghai Computer Industry Association, Shanghai Toys Association, Daily Chemical Industry Association of Shanghai, Shanghai Motorcycle Trade Association, Shenzhen Electronics Chamber of Commerce, Long Jiang Economy Promotion Bureau, China Plastics Processing Industry Association, Medical Plastic Professional Committee of China Plastic Processing Industrial Association Council, Shenzhen Toys Industry Association and Foshan Mould Trade Association, etc. Their support is a good evidence of the status of CHINAPLAS 2011 in the industry.
To celebrate the 25th edition of CHINAPLAS, the organizer will specially hold a series of concurrent events during the exhibition period.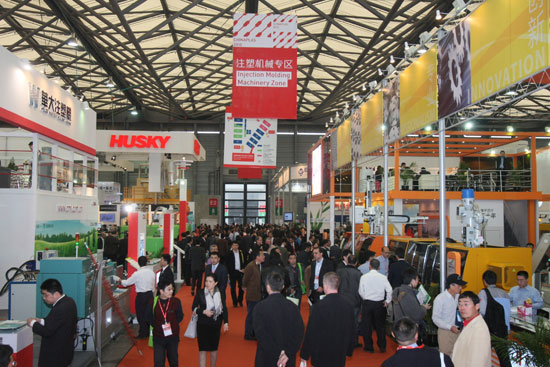 The organizer will launch a "We Build and We Share - CHINAPLAS 25th Edition Celebration eMagazine." The content will include the milestone of CHINAPLAS in the past years, the photos capturing the precious moment at each edition of CHINAPLAS and the congratulation messages from major exhibitors and associations, etc. In order to thank the continued support of all parties, CHINAPLAS will also organize a celebration dinner inviting all friends to share the joy. The guests will include the representatives of various plastics and rubber industries' associations, exhibitors, key buyers, media and so on. All friends may take the opportunity to network with each other and to share and review the development history of CHINAPLAS.
The concept of environmental protection and recycling has become extremely important in today's international community. In view of this, CHINAPLAS will organize "Beating Record by Recycling Bottles", a concurrent celebration activity with the theme of environmental protection. A large number of used plastic bottles will be collected in order to make a record-breaking environmental sculpture. More than 80,000 exhibitors, local and overseas visitors will be able to witness this special and meaningful sculpture at the center of the exhibition centre.
Following the overwhelming response of Green Forum, a concurrent activity of last edition, CHINAPLAS will organize a "CHINAPLAS 2011 - Eco-friendly Plastics Conference" this year. The government officials from the mainland and Hong Kong, the environmental experts and leading enterprises from related industries will get together to share their insights on green plastics and machinery. The organizer will invite experts in the industry to speak at the forum with content ranging from the production technology, market supply chain, practical application of low-carbon plastics, successful case study to the breakthrough achievements on research.