Today, CHINAPLAS is regarded as a must-go exhibition for buyers from different industries to obtain the latest industry information and purchase the most advanced plastics and rubber machines and raw materials. Its popularity makes CHINAPLAS become "the flagship exhibition in the industry", with it authoritative status being deep-seated in the industry.
CHINAPLAS 2011 (The 25th International Exhibition on Plastics and Rubber Industries) will be held from May 17 to 20, 2011 in Asia's largest exhibition hall - China Import & Export Fair Pazhou Complex, Guangzhou, PR China.
The scale of the coming exhibition will continue to grow with a total exhibition area of more than 160,000 square meters. It is expected that the event will attract more than 2,200 well-known enterprises from 35 countries and regions together with pavilions from 11 countries and regions from Austria, Canada, France, Germany, Italy, Japan, United Kingdom, United States, China, Taiwan and India. More than 1,900 sets of machines and chemicals & raw materials will be on display.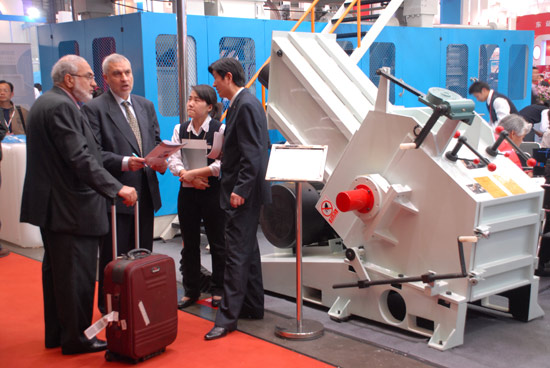 The outstanding achievements of CHINAPLAS over the years have been relying on the long-standing support from exhibitors. Mr. Stephan Greif, the CEO of Demag Plastics Machinery (Ningbo) Co., Ltd., the world's leading injection molding company, said in an interview, "CHINAPLAS is very attractive to buyers around the world. You can easily find this from the ratio of the visitors: there were only 5% overseas buyers ten years ago, but now this figure has reached 40-50%."
Another leading company giving loyal support to CHINAPLAS is Mold-Masters, the world's famous supplier of hot runner technology. Ms An Ling, the company's Greater China President also expressed her perception about CHINAPLAS in a recent interview, "CHINAPLAS is in fact more like a new product launch conference than an exhibition. It is a stage for not only Master Mold, but also other hot runner manufacturers and all others exhibitors, to release their new products. Here, we can demonstrate the most advanced technological achievements, as well as share with professional buyers and visitors from around the world the joy, the confidence and the growth brought to us by scientific and technological progress!" These two exhibitors both wish that CHINAPLAS will continue to make progress and greater achievement in the future, showing the deep and friendly relationship between "CHINAPLAS" and exhibitors.