The confectionery and baked goods segment is an excellent example of the important impact packaging can have on consumer decisions at the point of sale (POS). Almost no other industry benefits as strongly from seasonal trade, which depends considerably on packaging. And there are many occasions that call for colourful special editions: Mother's Day, Valentine's Day, Easter, Thanksgiving, Christmas and Halloween. From year to year, trademark owners and packaging manufacturers outdo one another with new ideas for products, flavours and designs, all in accordance with customer demands. Because variety, after all, is what consumers desire above all else. Launching new and innovative products is one of the key success factors in the industry.
New varieties are key to success
German chocolate manufacturer RITTER SPORT has recognised this. "Chocolate consumers are a lot like wine drinkers. Their tastes mature over the course of their lives. Accordingly, we have to ensure that our product remains captivating and offer consumers a wide variety of flavours. After all, our colourful variety is our brand essence" summarises RITTER SPORT Managing Director and Supply Chain Manager Asmus Wolff.
With a steady flow of new flavour combinations, RITTER SPORT brings its colourful variety to chocolate selections in stores. Photo: RITTER SPORT
Food pairing is a new trend in the confectionery industry and means the combination of different ingredients, for example chocolate with matcha and cranberry, which are supposed to create a multisensory taste experience when consumed. Variations in textures and inclusions in confectionery and baked goods as well as various packaging types and sizes have led to a larger product variety in our supermarkets as well as significantly more complex production processes. As a result, manufacturers of confectionery and baked goods and packaging experts have to be able to anticipate consumer demands and include these in production planning and delivery.
Responsive and adaptable
Doing so requires state-of-the-art technologies and equipment that meet the demands of smart manufacturing. At the upcoming interpack, which takes place in Düsseldorf from 7 to 13 May 2020, more than 1,000 exhibitors will showcase the new innovations that the industry has developed for this exact purpose. In our new Hall 1, located directly next to the new southern entrance of Messe Düsseldorf, as well as in Halls 3 and 4, visitors can discover solutions and offers from the portfolio of the confectionery and baked goods sector and find out more about the latest industry trends.
As product variety increases, life-cycles of products shorten and batch sizes decrease. As a result, machines and plants have to be responsive and flexible. Short changeover times are in high demand, as are easy conversions of products, quantities and formats as well as modular concepts with the aid of which production and packaging lines can be combined and expanded as necessary.
Improving plant efficiency
Theegarten-Pactec, specialist for packaging machines, will present an entirely new development at interpack 2020. "This new packaging machine combines ten different types of packaging in one product and will set a new benchmark in the field of primary packaging," announces Steffen Hamelmann, Marketing and PR Manager at Theegarten-Pactec. "It is easy to change the specific modules for each packaging type, allowing the machine to quickly switch between different folding types. The newly developed machine also considerably increases maximum output: from around 1,200 packed products per minute to 1,800 products per minute – always depending on the size of the product and the type of packaging."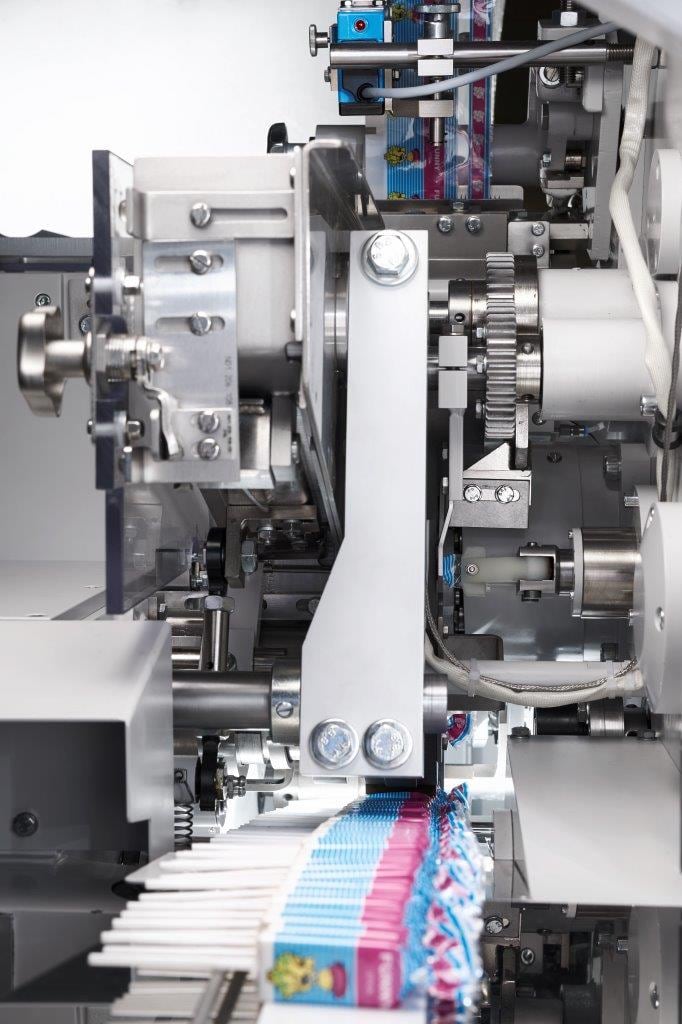 Cutting-edge software developments are to make packaging machines in the confectionery and baked goods sector even more efficient and ensure that they can be operated more intuitively. Photo: Theegarten-Pactec
At interpack 2020, the world leader in the primary packaging segment for small-sized confectionery products will break new ground and present a secondary packaging solution. In the past, the high performance of these machines often led to problems at the interface to downstream packaging. The new plant has been designed specifically to connect directly to primary packaging systems by Theegarten-Pactec and is thus expected to lead to an increase in efficiency in the entire system of primary and secondary packaging.
Due to the steady increase of seasonal production in the confectionery segment, products are being launched at increasingly early dates, resulting in Easter confectionery being sold at the beginning of the year. Photo: Theegarten-Pactec