As a low-cost, renewable material, cardboard is an attractive packaging option for a wide range of products, but it has never been seen as practical for pressurised containers. Sagentia has developed a prototype cardboard can which is strong, waterproof and gas tight - representing a significant technical achievement.
An aluminium can satisfies a range of different demands: it keeps CO2 and liquid in, and everything else out; it can withstand up to 8 bar of pressure; it is fillable, sealable and easy to open; the exterior can carry graphics; and it can withstand robust handling. Sagentia's cardboard can matches this performance.
To create the can they began by considering the properties of cardboard, and the effects of temperature and humidity. The paper structure used to create the can shape is key to maintaining the internal pressure, and so they have developed both convoluted and spiral design options together with a fully recyclable polymer liner, a few microns thick, which provides barrier properties. A variety of stackable end caps have also been created. Can closure was the biggest challenge, especially as plastic could not be used, but Sagentia has identified a number of promising options.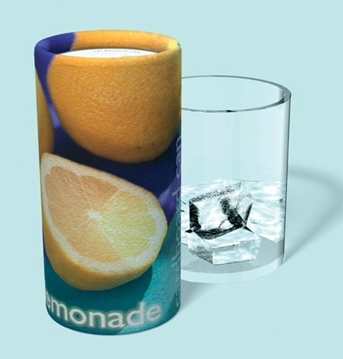 Economic manufacture was a key consideration throughout the project; the resulting design will cost an estimated 18 US cents per unit, and offers other advantages such as shorter manufacturing runs and the possibility of multiple sizes on a single manufacturing line.
The prototype can is now easy to make in the laboratory - the next step is to take it into full production, a process which will finally determine the optimal design of the can components.
Traditional can applications are now viable in cardboard, but the concept could also be extended to aerosols and beyond, offering consumers an alternative which is environmentally sustainable, and also much safer to use and dispose of than aluminium or glass.