Now the company has launched a combined low density polyethylene (LDPE)/LLDPE multi-layer film concept that benefits converters in many ways. By offering down-gauging opportunities, the multi-layer film concept reduces material requirements for cost savings. It also optimizes equipment performance for higher processing speeds and lower energy consumption.
Other new packaging innovations include the SABIC LDPE UMS ( Ultra Melt Strength) line for foam applications. By lowering density while maintaining mechanical properties, and also improving thermal performance, these products can deliver significant savings in materials and energy. From an environmental standpoint, SABIC LDPE UMS grades can reduce the amount of packaging material needed by providing superior insulation and shock absorption. Applications include foam sheeting and foam sealing.
New clarified polypropylene (PP) grades for storage containers and other packaging applications offer improved optical performance and energy savings for converters. SABIC PP Qrystal random copolymer grades can be processed at significantly lower temperatures than comparable grades without loss of transparency, resulting in energy savings of up to 15 percent. SABIC PP Qrystal is a clear choice for housewares, office and home storage, lids and caps & closures. The SABIC PP Clearpact Range is unique on the market: it combines the transparency of a random copolymer with the impact of a block copolymer, giving a "best of both worlds" result for customers.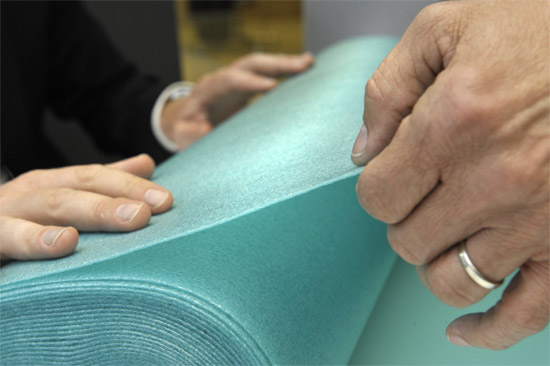 Infrastructure is another major CIS/Baltic market sector where SABIC has achieved notable growth. SABIC Vestolen PP random copolymer grades for drinking water pipes and fittings are heat stabilised to handle hot water transport. These high molecular weight materials offer excellent resistance to extraction and leaching.
SABIC Vestolen A RELY HDPE is used in high-pressure pipes where gas, water and sewage pipe infrastructure is being replaced. RELY stands for good reliability, which is critical for transporting potable water, gas and other valuable liquids, these bimodal high-density materials offer converters considerable energy savings and enable environmentally responsible pipe installation. Developers and contractors can select trenchless pipe installation such as guided boring and horizontal directional drilling that reduce impact on the environment.
Further demonstrating its commitment to sustainable technologies, the company has also recently launched its revolutionary new Strain Hardening method, a fast, cost-efficient and highly accurate method for evaluating the slow crack growth resistance behaviour of HDPE. This method avoids the use of detergents - that can pose an environmental hazard.