SABIC Innovative Plastics` Lexan Thermoclear Glazing Is Being Used for UEFA Euro 2008 Stadiums and Arenas.
SABIC Innovative Plastics announced that its Lexan Thermoclear sheet is being used for the roofs of three stadiums for the UEFA Euro 2008 football championship. This versatile thermoplastic glazing material, which has been used in arena roofing and other glazing for more than 25 years, delivers a unique combination of advantages in roofing for large, complex structures like stadiums: light weight, high impact resistance, and the ability to be easily formed into compact shapes.
- Many demands are placed upon new sports stadiums and arenas, including safety, comfort, durability and design excitement - said Michel van Acht, global product manager for Lexan Thermoclear Sheet, SABIC Innovative Plastics. - By choosing high-performance Lexan Thermoclear sheet, designers and architects can achieve the clarity of glass while overcoming its drawbacks of heavy weight, design restrictions and fragility. The properties of Lexan Thermoclear can be enhanced with special coatings and tints for aesthetics, excellent weathering performance, improved light transmission, and easy maintenance.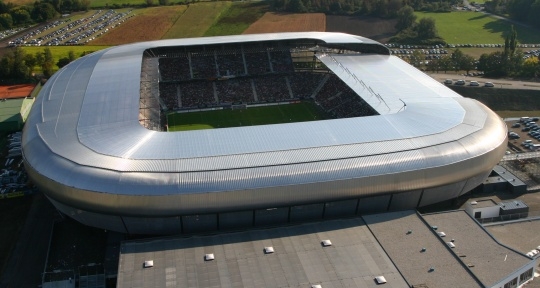 Lexan Thermoclear sheet from SABIC Innovative Plastics is an impact-resistant, multi-wall polycarbonate (PC) glazing material. It features a proprietary surface treatment on one or both sides that provides excellent resistance against degradation from UV radiation, while transmitting visible light very well. It withstands high wind and snow loads, and storms. The multi-wall construction of Lexan Thermoclear sheet also ensures excellent thermal insulation. It is available in X-structure and rectangular -structure configurations, and a variety of special coatings and finishes to address special challenges.
Lexan Thermoclear Easy Clean sheet products feature a patented hydrophobic coating that offers self-cleaning properties. Lexan Solar Control IR solid and multi-wall sheet grades reduce heat build-up by blocking near-infrared radiation. Lexan Thermoclear Plus sheet provides high stiffness and double-sided UV protection for sunny climates. Lexan Thermoclear SunXP sheet offers UV protection as standard on both sides, but with even higher resistance to UV radiation, yellowing and loss of light transmission.
Compared to glass, Lexan Thermoclear sheet is significantly lighter in weight while offering high stiffness and more than 250 times the impact resistance to reduce the risk of breakage from wind, hail, and other extreme weather, as well as vandalism. Further, unlike glass, this material can easily be cold-formed into many different shapes and configurations.
Beginning with its first application in a stadium in Split, Croatia in 1979, Lexan Thermoclear sheet has been selected for several Olympic arenas, including the Barcelona and Sydney facilities, as well as six stadiums that hosted the UEFA Euro 2004 football championship in Portugal. Currently, it is being used for the roofs of three stadiums for the UEFA Euro 2008 football championship: stadium in Bern, Switzerland, and Klagenfurt and Salzburg stadiums in Austria. The Bern stadium facility will feature 4,000 sq. meters of Lexan Thermoclear SunXP sheet, and the Austrian stadiums will be glazed with Lexan Thermoclear sheet.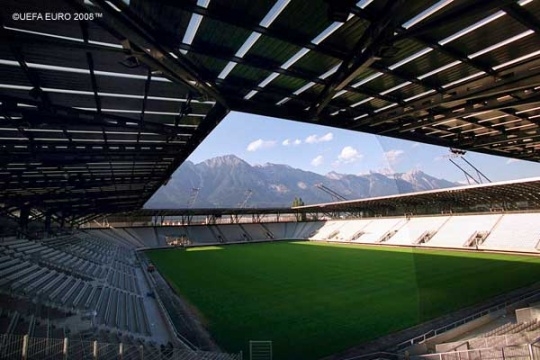 Lexan sheet glazing materials can help to deliver measurable return on investment through ease of installation; lower insurance costs through resistance to break-ins, weather damage, and vandalism; and less need for replacement due to UV degradation, weathering, and breakage. Most of these products are covered by a minimum 10-year limited written warranty against excessive yellowing, loss of light transmission, and loss of strength due to weathering.
In addition to roofing and escalator enclosures, SABIC Innovative Plastics ? Thermoclear sheet products have been used in separation walls, dugouts, balconies, walkway enclosures, and entranceways.
SABIC Innovative Plastics is a leading, global supplier of engineering thermoplastics with a 75-year history of breakthrough solutions that solve its customers` most pressing challenges. Today, SABIC Innovative Plastics is a multi-billion-dollar company with operations in more than 25 countries and over 10,500 employees worldwide.