The Italian Piovan is a leader in quality in the plastics material processing sector. The company has completed a range of auxiliary machinery to respond to any requirement in the specific areas of injection and blow moulding, extrusion, pet preforms and optical applications. Now is introducing all over the world its new product and technologies in example new series of HR dryers, masterbatch doser MDP 2G and chillers.
Piovan`s innovative gravimetric doser for masterbatch MDP 2G ensures precise dosing and constant blends over time, in the injection and blow moulding process and in extrusion applications. The loss-in-weight gravimetric technology allows constant control of the dosed material and high precision. It is available in the single and twin-station versions; its throughput ranges from 0.035 to 138 kg/h.
The MDP 2G gravimetric doser can be equipped with one or two dosing stations, connected with a weighing cell which sends to the control system a signal proportional to the weight of the dosed material. At very short intervals, the control checks the variations of throughput and automatically corrects them in line with the set value, adjusting the revolution speed of the screw. The unit constantly keeps the set and guarantees high dosing reliability.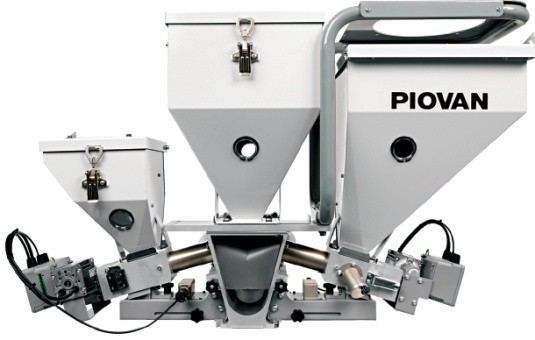 The new Piovan`s gravimetric doser ensures immediate start-up, with no waste of time. It is sufficient to set the percentage to be dosed, without carrying out any calibration or dosing test. The unit starts immediately to dose activating the quick start-up procedure. The important function is also the possibilities of safe and quick production shift. The dosing station can be rapidly detached with no need of tools. For cleaning operations, it is possible to use the handy device for material discharge.
Another novelty of Piovan is the newly developed HR dryers which represents latest evolution in the drying field. The models HR 50, HR 100, HR 150 and HR 200 provide an airflow ranging from 50 up to 200 m3/h and keep the Dew Point value constant. By adopting the honeycomb desiccant rotor technology, the HR Series is able to ensure maximum energy efficiency and versatility of application in small and medium productions.
The HR dryers are equipped with two side channel blowers, one dedicated to the
process and rotor cooling phases, the other to the regeneration phase. The drying
process is independent from the ambient conditions, with consistent Dew Point,
with values ranging from -25°C to -50°C.