A new Softell polypropylene (PP) compound from LyondellBasell is being used to manufacture a variety of large, visible interior applications such as the instrument panel and the door panels of the new Opel Astra model.
"This is the first time that our new Softell grade has been selected to produce visible, highly aesthetic interior parts in a compact and mid-range model," said Michael Pohl, European automotive business development manager at LyondellBasell. "This achievement represents a breakthrough in the market and reflects our company's continuous innovation capabilities."
Interior applications in the compact and mid-size car models have been dominated by other polymers such as ABS (acrynitril butadiene styrene) with soft-touch painting. Due to the unique surface properties offered by Softell resins, manufacturers can produce interior parts with exceptional surface aesthetics and soft-touch qualities without the need for painting. "The Softell PP compounds used in the Astra interiors have established new aesthetic and resource-efficiency benchmarks in compact and mid-size automotive models," said Pohl.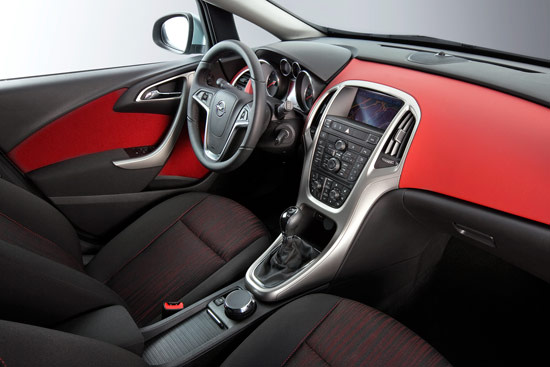 The gloss level of a conventional PP compound is between 2 and 3 GUs (measured at an angle of 60°). Tests conducted using a gloss meter show that Softell resins have a gloss level below 1.5, which is required to achieve good matt surface characteristics. To attain this level of gloss, the use of soft-painted surfaces typically has been required. "The low level of gloss achieved with the use of Softell resins enables Opel to produce parts such as the instrument panel with the desired low light reflection. They have achieved their quality and performance requirements without the need for costly painting processes," said Pohl.
In addition to surface aesthetics, the Softell resins also offer improved scratch resistance, which is essential for today's demanding automotive interior applications. Scratch-resistance tests showed that at 10 Newton, Softell resins have achieved a much higher level of scratch resistance compared to standard thermoplastic polyolefins. "LyondellBasell trials conducted on several different grains showed that the finished parts produced with Softell resins demonstrated a gloss level up to three times lower than finished parts produced with a standard scratch-resistant PP compound," explained Pohl. "Mar resistance was almost twice as high as that of standard PP compounds:"
The Opel Astra's visible interior components produced using Softell resins also provide very good surface hardness, measured in Shore D. The tests proved that finished parts manufactured with the resins achieved a higher Shore D value than competitive materials. "LyondellBasell's Softell resins enabled us to combine design and material innovation in the new Astra model. Together with our development partner Johnson Controls and the raw material producer LyondellBasell, we manufactured interior parts that feature excellent surface aesthetics and capabilities unmatched in this automobile class. These parts also deliver improved recycling potential, as we were able to eliminate the coating that is typically required with the use of other thermoplastics," said Hubert Ast, engineering manager at Opel.