Two impressive premieres
The hybrid Allrounder 820 H in the clamp design and with the Gestica control system in the special "Packaging" version celebrated its premiere. In a cycle time of 3.8 seconds, it produced four thin-walled IML containers. Equipped with four assistance packages, this high-performance machine for the packaging industry was "ready for digitalisation". With immediate effect, these packages are included as standard with all Allrounder machines featuring the clamp design and the Gestica control system.
The new Arburg Turnkey Control Module (ATCM) also garnered a great deal of interest. This SCADA system for complex turnkey systems from Arburg visualises the complete process, captures the corresponding data and transmits the part-specific data sets to an evaluation system for archiving or big-data analysis, for example. At the Fakuma 2018, a complex turnkey system built around an electric Allrounder 470 A produced ready-to-use spirit levels. The process also includes several test steps and the labelling of each spirit level with a QR code. The ATCM captured the information from the injection moulding process and camera inspection via OPC-UA and allocated it to the relevant part via the QR code. Visitors were able to scan this code with their smartphones and view the corresponding process data on a part-specific website.
Application highlights
A further application technology highlight was an automated production cell in a clean-room version for the production of medical micro components made from untempered LSR. For this purpose, an electric Allrounder 270 A with a clamping force of 350 kN and a size 5 micro injection unit was equipped with a new LSR cylinder module. The exhibit produced four 0.038-gram dosing valves in a cycle time of around 20 seconds. Handling and set-down separated according to cavity was performed by a Multilift H 3+1 robotic system.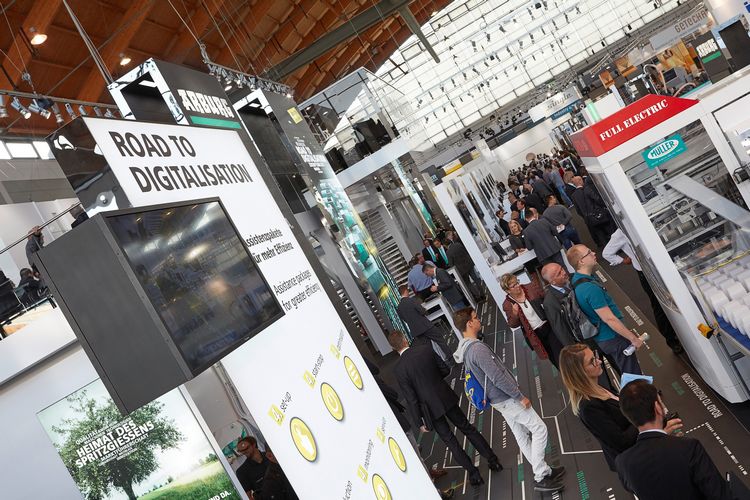 The practical Industry 4.0 example of "tension straps" demonstrated how individual customer wishes can be integrated into the ongoing injection moulding process online. A turnkey system built around a vertical Allrounder 375 V injection moulding machine with a six-axis robot compactly positioned within the installation space produced the elastic tension straps "on demand" yet cost-effectively in high volumes as different variants, flexibly from shot-to-shot.